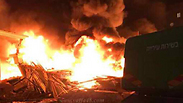 Three people were killed and four lightly hurt in an explosion at a construction materials store in Jaffa late Monday, which led to the structure's collapse.
Two of the casualties were declared dead on the scene while the third, who was critically injured and suffering from burns on his entire body, was declared dead at the Wolfson Medical Center in Holon.
Ali Abu Jamaa, 22, from Tayibe, and Rimon Huri, 20, from Jaffa, worked at the PFC (Popa Family Company) burger restaurant in Jaffa and lived in a room near the store that exploded. The structure collapsed on top of them as a result of the blast, killing them both instantly.
The name of the third casualty, a resident of the West Bank, has yet to be cleared for publication.
צילום: יוגב אטיאס, איתי בלומנטל, תיעוד מבצעי מד"א
Three others were suffering from shock and received treatment on the scene.
The huge explosion, which was heard across Tel Aviv, also caused damage to several nearby residential buildings in Jaffa's Ajami neighborhood.
Police launched an investigation into the explosion, examining whether negligence on the store owner's part caused the explosion.
Fire and Rescue Authority investigators estimated Tuesday morning the explosion was caused by a gas leak. They found several small gas canisters in the store, the use of which was unclear.
"The complex was completely destroyed," said Doron Netanel, the commander of the Tel Aviv District fire station. "The initial assumption was that this was an explosion caused by a gas leak, and we have confirmed that. The leak was in a fairly large amount, which caused the great destruction here."
"What added to the fire was the materials sold in the store: paints, plastics and other materials," he added.
Six firefighting teams worked late into the night to put out the flames, including Special Forces from the Fire and Rescue Authority's elite "Lehava" unit.
In addition, forces from the Home Front Command's Search and Rescue Units, who were training nearby, were also called to the scene, alongside the IDF's canine Oketz Unit.
Eyewitness Barak Cohen, who lives in the area, described the scene of the blast. "We heard a deafening explosion. We ran downstairs, and everyone left their buildings and didn't know what was happening. Power lines fell, cars flipped over, (it was) a big mess," he said.
"At first we thought it was a terror attack, or something criminal. We're used to this here," Cohen added.
"We saw a car that was driving on the road while the explosion happened and was hit," said Magen David Adom paramedic Meir Valder. "Inside the car were two young people. We extracted them from the vehicle, they were fully consciousness and suffering from injuries to their extremities. We treated them and evacuated them to the hospital."
Police closed Yeffet Street, where the explosion occurred, for traffic between Yehuda Margoza Street and Shivtei Israel Street.
Itay Blumenthal, Eli Senyor, Yoav Zitun, Hassan Shaalan, Attila Somfalvi and Alexandra Lukash contributed to this report.