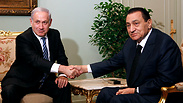 Netanyahu (L) and Mubarak
Photo: AP
Report: Netanyahu asked Mubarak to settle Palestinians in Sinai
Deposed Egyptian president Mubarak confirms report from several years prior that PM Netanyahu asked him to resettle Palestinians in Sinai Peninsula; 'I told him I wouldn't even hear of it,' says Mubarak, though the BBC states he did agree to the resettlement offer.
Former Egyptian president, Hosni Mubarak, confirmed on Wednesday past reports that in 2010, Prime Minister Benjamin Netanyahu made him an offer to resettle Palestinians in Egypt's Sinai Peninsula, as part of a land swap with the Palestinian Authority.

According to Mubarak, he flat-out refused Netanyahu's offer. "During that meeting, I immediately told him in no uncertain terms that I wouldn't even hear of such offers in that context."

According to British broadcasting network BBC, however, Mubarak did agree to the resettlement plan, as long as it was part of a larger agreement aimed at ending the Israeli-Arab conflict.

The BBC further reported that Mubarak had received a similar resettlement offer in the early 80s. British documents seemed to confirm this, in addition to confirming Mubarak had, in principle, agreed to resettle Palestinians from Lebanon in the Sinai Peninsula following a US request.

Mabarak's position on the matter was stated in 1983, during a meeting held with then-UK prime minister, Margaret Thatcher.

Mubarak's issued current the statement eight months after he was released from military hospital and acquitted of all charges lobbed against him, as part of the Egyptian revolution that deposed Mubarak and ushered in "the Arab Spring." Following the toppling of his regime, Mubarak had been tried and found guilty of being complicit in the deaths of protesters during the 2011 revolt that led to his ouster.

His present statement, denying his accepting Netanyahu's resettlement plan, was published on a Facebook page called, "We apologize, Mr. President"—known for being a supporter of the Mubarak family. It was later quoted throughout Egyptian media outlets.

Mubarak explained that back when Netanyahu had made the offer, the First Lebanon War was taking place, and Egypt was overseeing the exits of Palestinians under siege in Lebanon's capital of Beirut—most notably, PLO Chairperson Yasser Arafat.

"But the claims that Egypt or I had agreed to settle the Palestinians in Egypt, and particularly those who were then in Lebanon, are groundless," said Mubarak. "There were efforts made by some to convince me to settle some of the Palestinian—who at the time were in Lebanon—in Egypt. I utterly refused."

Mubarak's current stance somewhat moves away from an interview he had given the Al-Youm al-Saba'a paper in 2011. Even so, he now stresses that "I rejected all attempts and efforts to settle the Palestinians in Egypt, or even to just think about it."

Mubarak ended his message by saying that he would never agree to give up any piece of Egyptian land that his generation had fought for. "This is seen in our determination to regain any piece of land that is ours, and which was conquered in 1967 (by Israel, during the Six-Day War—ed), through Taba's complete return to Egyptian sovereignty," added Mubarak.