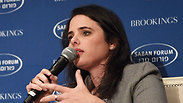 Justice Minister Shaked
Photo: Shahar Azran
Shaked: 'People didn't elect right-wing gov't to pass recommendations bill'
Justice Minister Shaked says at Saban Forum Washington conference 'coalition's energy invested in wrong thing'; despite reservations, Shaked says recommendation bill 'makes sense in essence'; minister also professes hope President Trump will make good on campaign promise to transfer US embassy to J'lem.
Justice Minister Ayelet Shaked clarified her reservations Sunday regarding the recommendations bill promoted by Likud MKs, asserting that "The people did not elect a right-wing government to pass the recommendations bill."

Shaked's comments at the Saban Forum in Washington come a day before the expected vote on the recommendations bill, barring police from making indictment recommendations publically, which will be held if the coalition can drum sufficient votes.

In light of the fact one of the bill's promoters, MK David Bitan (Likud), was questioned Sunday, and the mass demonstration held Saturday night in protest of the bill, the legislation's second and third reading may be postponed.

The opposition has also announced ahead of time it will not accept any offsetting—opposition MKs agreeing to avoid voting should any coalition MKs be unable to attend themselves. MK Haim Yellin (Yesh Atid), for instance, was shuttled back to Israel from a working visit abroad to notify MK Yifat Shasha-Biton (Kulanu) he will not be offsetting with her, despite a previous agreement to do so.

Shaked was the Forum's guest of honor. Asked about the "French Bill"—prohibiting investigations into affairs of a sitting prime minister—the justice minister said, "Bennett and I put a stop to it, after the other coalition members agreed to pass it with term limits. We said: 'Enough is enough.'

"Regarding the recommendations bill, personal matters aside, in essence the bill makes sense; defending suspects' rights at the expense of the public's right to know. Having said that, the people of Israel did not elect a right-wing government to pass the recommendations bill but to pass fundamental ideological reforms, such as Basic Law: Legislation," which would prevent the High Court from striking down Knesset laws as unconstitutional.

"The coalition's energy is being invested in the wrong thing," she added.

On the delayed transfer of the United States' embassy from Tel Aviv to Jerusalem, Shaked opined, "President Donald Trump made a commitment to his constituents. I hope and believe he'll follow through on it."

Regarding Israel-US relations, the minister said, "There's an inextricable link between Israel and the US, regardless of who's occupying the White House or the Prime Minister's Residence."

Facing catcalls from left-wingers in the audience, Shaked shot back on relations with the Palestinians in saying, "I urge you to become grounded in reality. The gap between Israelis and Palestinians is too wide to bridge. There will never be an agreement so long as the Palestinian Authority busies itself with incitement, transfers funds to terrorists and appeals to international courts."