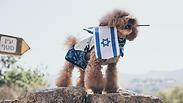 Vibe Israel's Doggy Vacay
Photo: Or Kaplan, courtesy Vibe Israel
Israel's best friends: US celebrity pups visit the Holy Land
Remix the hipster dog from Miami licking a chicken soup popsicle on the beach in Tel Aviv, superhero pooch Bruce Wayne getting his first taste of hummus and falafel and Teddy the curly-haired poodle receiving indulgent spa treatments—6 celebrity dogs enjoyed a vacation in Israel courtesy of Vibe Israel, organization working to rebrand Israel for millennials not usually invested in country.
Six celebrity dogs from North America were selected to participate in the Vibe Israel organization's "Doggy Vacay" project, which put a new spin of the tail on Israeli public relations by bringing the dogs, who boast thousands of followers each on social media, for a dream Israeli vacation. A video of the pups' exploits in the Holy Land was launched on Facebook, Instagram and Twitter Sunday.
Vibe Israel is working to brand Israel in an original, new way in the world in a way that allows young people to connect with the country in a creative, relevant, positive and—above all—viral fashion, even if normally Israel couldn't be further from their minds.
Working with the Gefen Team innovation agency, Vibe Israel developed an original new concept to grab the attention of people on social media, saturated as they are already with messages, information and advertisements.
The dogs' exploits in the Doggy Vacay (צילום: תומר לוי | סטילס: אור קפלן | באדיבות: Vibe Israel)
The campaign will be accompanied by posts made by the dogs themselves, with their owners' help, each of whom have Instagram pages with 300,000 cumulative followers.
The campaign was kicked off with a social media contest that appealed directly to the four-legged stars and invited them to do their owners a solid by helping them win an all-expenses-paid trip to Israel.
Out of the hundreds of participating pooches, six were selected and visited Israel this past October.
The itinerary experienced by the dogs and their owners was built to accommodate the real stars, with a day of fun at Tel Aviv's dog beach, a dog-oriented tour of Jerusalem, a doggy meal prepared by Chef Attalia in Ein Karem, a session showcasing startup apps relating to man's best friend, an indulgent dog spa and countless of other activities.
The dogs also independently reported their experiences of Israel and obediently shared Vibe Israel's video.


Vibe Israel CEO Joanna Landau said that "the campaign was brought to 300 million people so far (according to Facebook, Instagram and Twitter analytics) using posts on the dogs' accounts and funded promotion on different social media platforms."
"With the video's launch, we're expecting further boost of our messages directly to the target audience whose base interest in Israel is very low, bordering on the non-existent, thereby increasing their interest in the country and creating a positive perception towards it," she explained.