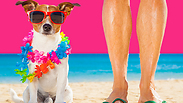 Time for a doggy vacay! Bring your pup to Israel
Five Instagram-famous American pooches and their humans can win a fun trip to the Holy Land as part of a new initiative by Vibe Israel; pet-friendly hotels, gourmet doggy food, a massage at a special spa for canines and wild beach parties are just part of the activities planned.
Want to go on vacation, but don't want to leave your pooch behind? Bring your pup to Israel!

Vibe Israel, a nonprofit organization leading initiatives to strengthen Israel's brand in the world, is inviting five dogs from the US along with their humans for a pampering five-star vacation to the Holy Land.

But not just any canine. Vibe Israel is looking for three dogs who have a wide following on Instagram, along with two others who are popular on the photo-based social media platform, but don't necessarily have to be online superstars.

Win a doggy vacay to Israel with your furry BFF

The popular pups (or, rather, their owners) will post photos of their experiences on Instagram, for all to see and be peanut butter and jelly.

Vibe Israel is hoping the publicity from the star doggies can help market Israel as a country that loves and is welcoming to man's best friend.

Registration for the project is already underway and will be closed on September 12. A committee will examine the candidates and announce the five lucky pooches to win a dream vacation with their owners on September 15.

The competition is limited to small dogs that can travel in the cabin of the plane with their owners, to ensure the pups, like their humans, arrive in Israel in a good mood rather than traumatized by a flight spent in the cargo hold.

The dream vacation will last for five days in late October. The VIDs (yes, the Very Important Dogs) will get to enjoy everything a pup could dream of, including fun nature walks in the hills of Jerusalem, beach hangs or a dip in the pool, a special spa for canines where they will enjoy a rejuvenating massage, gourmet doggy food prepared especially for them by chefs who specialize in meals for dogs, doggy-dates with Israeli pooches, wild beach parties, and pet-friendly hotels.

One of the main stops of the Doggy Vacay to Israel will be Tel Aviv, the city with the most dogs per-capita in the world.

Their two-legged companions won't suffer either and will get to enjoy an incredible experience in Israel with their best friend by their side.

The dogs and their owners will also get to meet Israeli celebs with their own four-legged BFFs.

The humans will be in charge of documenting their pups' experience with photos and videos, and share the fun on Instagram, Facebook and Twitter.

Joanna Landau, the founder and CEO of Vibe Israel, said, "Israel invests great efforts in explaining its policies to the world, but as we can see most of these messages fall upon deaf ears, especially when it comes to Millennials. That's why we decided, as an expansion of the tours of Israel we have been offering digital influencers for the last few years, to embark upon this unique, original and viral campaign that is aimed directly at the dogs."