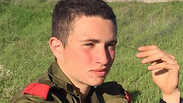 Soldier killed in Arad attack laid to rest
Sgt. Ron Kokia, killed in stabbing attack in Arad, was laid to rest in Kiryat Shaul military cemetery with 2,000 people, Science Minister Akunis, chief army personnel in attendance; 'Israel does not do enough to combat its enemies from within and without,' says Kokia's father; perpetrators not yet found.
Nahal Brigade soldier Sgt. Ron Yitzhak Kokia was laid to rest Sunday afternoon at Tel Aviv's Kiryat Shaul military cemetery, with some 2,000 people in attendance.

The Israeli government was represented by Science Minister Ofir Akunis, while the IDF was represented by GOC Central Command Maj.-Gen. Roni Numa, GOC Southern Command Maj.-Gen. Eyal Zamir and the head of the IDF Technological and Logistics Directorate Maj.-Gen. Aharon Haliva.

Boaz, Kokia's father, eulogized his son. "Our Ron was brought up to love and respect people, both in our family and society at large, but he was also brought up to 'Respect them and suspect them', especially as it pertains to strangers. I think Ron may not have been suspicious enough Thursday night, when he was murdered by the lowest of the low: Israel's enemies from within," the father said.

"The State of Israel, including all of its systems of government and citizens, does not do enough to combat its enemies from within and without. This is a prolonged, systemic war waged against those who visit this violence upon and us and those who instigate it," he added.

Boaz Kokia continued, "Personal and national security are a main aspect, alongside mutual assurance and the security, civilian and economic aspects. On this painful occasion, I call upon Israelis of all religions and creeds to be more tolerant and less critical of each other, for each group to aspire to be elevated to the same plateau as others and not at their expense."

Ron's mother Levana spoke next. "My beloved, magical and sensitive child, a strong, strapping man who always wanted just one more hug from his mom. When I kissed you today, I wanted to bring your body some warmth, but your eyes were shut and extinguished, and I couldn't hold on to you. Go on your way, my son, angels will greet you when you get there. Go on your way embraced in the arms of your God. Our thanks go out... to those seeking the cursed terrorists and to the lovely people of Arad," the grieving mother said.

"You'll be our eternal soldier," Kokia's cousin added during his own eulogy.
'Forgive me for not being by your side'
Ron's three brothers eulogized him as well. His older brother Dor said, "My beloved Ron, the best little brother in the world. The pain is too much to bear and the heart is torn asunder. I remember the excitement I felt when they told me I had a baby brother. Forgive me for not being by your side Thursday to shield you with my own body and protect you from those wishing to do you harm. Together we could have beaten them all."

Ron's sister Noy said, "You've always been a kid and a kid you'll remain forever now. We're not longer four siblings, but three people lost."

Minister Akunis eulogized Kokia on behalf of the government. "The people of Israel bow their heads over the criminal murder of your beloved son. How do you bid a soldier you never knew farewell? You look at his picture and immediately understand. His eyes reflect the kindness of his heart and naiveté. The vacuum created with his passing cannot be filled," Akunis said.

Commander of the Nahal's regimental training base, Lt.-Col. Yoav Katzenelson, said in his own eulogy Kokia had decided to return from his week-long vacation shortly before the murder so he could join his compatriots in Hebron, despite not being obligated to do so.

"Your decision to come back, despite not having to, symbolizes the values that so characterized you: responsibility, camaraderie and a sense of mission. When notified of your injuries, your friends in the company and the entire base rushed to carry out widespread searches in and around Arad (for Kokia's assailant), and continued those searches for hours," Katzenelson said.

The security establishment suspects the terrorist or terrorists who carried out the attack made their getaway with Kokia's weapon. The IDF carried out expansive searches in the southern Mount Hebron area and set up road blocks, which were later thinned down. Hundreds of police officers were similarly deployed in Arad in the hours following the attack to rule out the possibility of the terrorist hiding somewhere in the city.

An initial investigation into the attack turned up Kokia was fatally stabbed while waiting for transportation outside an Arad shopping mall. Magen David Adom teams called to the scene unsuccessfully attempted to resuscitate the soldier and pronounced him dead.

Eye witnesses said the soldier tried crying for help after the deadly attack but collapsed over a passing car. The car's driver thought Kokia was hurt in an accident and called in medical assistance.

Arad residents arrived to the scene of the murder Friday morning to light candles and place wreathes where Kokia was killed. The soldier's family agreed to donate his corneas for transplant. "The entire family carries organ donors cards and saving life is a virtue like no other," said Kokia's father Boaz.