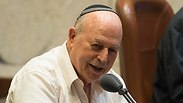 Nissan Slomiansky
Photo: Yoav Dudkevitch
Attorney General Avichai Mandelblit announced Sunday evening his decision to wrap up an investigation against Bayit Yehudi MK Nissan Slomiansky, who was suspected of sexual harassment.

Mandelblit's decision comes on the heels of a recommendation submitted by the state attorney that there was insufficient evidence to corroborate the allegations.

The investigation into Slomiansky began when several posts were made on social media last year about an MK who sexually harassed several women. These posts were made by friends of the women who were allegedly harassed by Slomiansky.

The accusations gathered further momentum when Hagit Moriah-Gibor urged more women on Facebook to come forward and report any incidents in which the MK sexually assaulted them.

Shortly thereafter, Slomiansky made clear his intention not to step down from his post.

After collecting testimonies from women who accused the MK of sexually inappropriate behavior, the Israel Police's Lahav 433 investigation unit recommended to the attorney general to summon Slomiansky for questioning under caution.

When the allegations were first made public, Slomiansky claimed he never sexually harassed anyone and postulated his accusers may have misinterpreted his warm and affectionate behavior.

A statement was issued on his behalf claimed, "MK Nissan Slomiansky has never harassed women. After a meeting with several rabbis, he understood that his warm and affectionate behavior, which is the same toward everyone, is sometimes interpreted in a different way, and for that he is sorry. MK Slomiansky has been serving the public for 40 years, including time in the Knesset, and he will continue to do so."