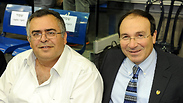 David Bitan (L) with Dov Zur
Photo: Kobi Koenks
Rishon LeZion Mayor Dov Zur is the senior official in the city's municipality who was among the 17 people detained for questioning Sunday in the large-scale corruption scandal, also involving coalition chairman MK David Bitan (Likud), it was cleared for publication Monday. Bitan served in the past as Zur's deputy.

The police claim that Zur exploited his position as mayor to promote the interests of others in return for favors.

Among other things, Zur, police say, worked behind the scenes to fix a tender for the Lago Events Hall in western Rishon LeZion for an entrepreneur who is a close associate of his, allowing him to win it at a low cost even though he was forced to recuse himself from the tender meeting for a conflict of interest.


Judge Amit Michaels noted that "in many parts of his interrogation, his answers are inconsistent with the investigation material in this case to say the least," and added that the court "cannot ignore the fact that there is a suspicion that the suspect has committed acts intended to conceal his actions, including acts related to the investigation."

The judge also noted that Zur is also suspected of obstructing the investigation, explaining that even though he is a city mayor with no criminal record, his remand should still be extended.

"The picture that has been painted in recent months is bleak and worrisome," he summarized.

Two of Zur's current deputies, Yossi Hamami and Eyal Moshayov, are also among those detained in the affair. Both are suspected of fraud and breach of trust, while Moshayov is also suspected of bribery. The court extended their remands until Thursday.

Another suspect in the affair was named as Shefi Sasson, a Likud activist who is considered to be close to Bitan, and like him is also suspected of bribery.

Sasson—a renowned businessman who owns several gas stations and real estate properties in Rishon LeZion—is considered a central activist in the Likud branch in the city and also a close associate of Prime Minister Benjamin Netanyahu.

All suspects have denied the accusations against them.
Bitan not considering resignation
Bitan, meanwhile, oozed confidence and optimism after a 14-hour interrogation by the police, saying, "I trust the law enforcement system, I do not intend to talk about the investigation or attack the police," Bitan said. "I'm also not considering resigning from the Knesset."
It was cleared for publication on Monday that Hossam Jarushi, a senior member of the Jarushi crime family, is the person who allegedly helped ameliorate the series of debts Bitan had accrued while serving as the chairman of the Rishon LeZion soccer team.
Bitan is suspected of fixing municipality construction tenders and other illegal activities for Jarushi in return for his aid.
According to Channel Ten News, Bitan has denied all allegations against him. "I've never accepted bribes or laundered money," he reportedly told police.
Bitan denied knowing the Jarushi family, and claimed: "I've transferred money from one account to another. There is no problem with that. I did not cash checks and transfer the money to a secret account."
According to the Israel Television News Company, police are also investigating the allegation that one of Bitan's parliamentary aides, who was promoted and appointed his spokeswoman, is the daughter of a businessman suspected of bribing Bitan.
He is scheduled to be questioned for the second time on Wednesday.
'Tremendous damage to city coffers'
In an interview with Army Radio, former Rishon LeZion Mayor Meir Nitzan panned both his former deputy Bitan and successor Zur for their conduct.

Nitzan said he knew Bitan owed money to loan sharks in the so-called grey market, saying he was even "absent from the municipality for three weeks" to take care of his debts.

When asked whether he thought Bitan was trustworthy, Nitzan replied: "No way. Once a person goes in debt in the grey market, he no longer has any integrity as far as I'm concerned."

Nitzan went on to clarify his stance on Zur and the allegations against him.

"I never spoke privately to a contractor," he claimed. "Always when there was a meeting it took place in my office with the city engineer, with a legal adviser and an assistant who summarizes the discussion in a written summary. That way, no one dared to offer me a bribe."

Nitzan says he knows "for sure" that his successor "did not use the same method," adding Zur met with contractors, sometimes together with Bitan, by himself.

"One can only imagine what transpired there, but that should be left to the public," he said. "These are just things that should not be done, that's all I can say."

According to Nitzan, "tremendous financial damage was done to the public coffers in Rishon LeZion, and the one responsible is the person in charge, the mayor." He estimated the damage "in the hundreds of millions of shekels."

"I left in the municipality's coffers a budget surplus of NIS 860 million to renovate 13,200 housing units that could very well collapse in the next earthquake," he said. "I left the money to Zur and explained why. That money is now gone, and I do not understand where it went."

Assaf Da'abol, chairman of the opposition in the Rishon LeZion municipality, who has been a member of the city council for the past 19 years, backed Nitzan's assertions, noting that while he doesn't know if any money was taken by Bitan and Zur for personal use in illegal deals, there is "one thing I do know—that from the public coffers of Rishon LeZion, the city's residents lost close to NIS 300-400 million from all these deals."

However, in Da'abol's opinion, "Bitan is not a hedonist, this is not his behavior, nor does he take money into his own pocket," suggesting he may have done something foolish "and got into trouble."
Bitan's debts, involvement with loan sharks
In October, reports emerged that police were examining the manner in which Bitan paid off personal debts. As part of the inquiries conducted by the police's Lahav 433 anti-fraud unit into different matters relating to the Rishon LeZion municipality, testimonies were provided shedding light on how Bitan allegedly paid his debts.

Bitan was said to have accumulated debts during his time as chairman of Hapoel Ironi Rishon LeZion F.C., allegedly getting into hot water with loan sharks after borrowing money from them on behalf of his club. Checks provided by parents of children who played for the club's youth teams were later cashed with the same loan sharks.

Bitan's debts were estimated to have reached millions of shekels, while the coalition chairman himself claimed he only owed NIS 600,000, and insisted he paid them off himself and with the help of his family.

"I'm fine with (police) looking into things and investigating whatever they want. It's recycled materials. There was an inquiry in 2010, I was asked questions and answered everything. There's no new information. The person feeding police information is someone I am not familiar with," Bitan said then.

Eli Senyor, Gilad Morag, Itay Blumenthal, Moran Azulay, Alexandra Lukash and Nir Cohen contributed to this article.