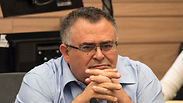 MK Bitan
Photo: Yoav Dudkevitch
Bitan questioned on suspicion of bribery
MK Bitan suspected of tender fixing in Rishon Lezion municipality in return for help with personal debts to loan sharks; AG Mandelblit approves interrogation, timing 45 days ago; 17 other people detained for questioning relating to possible corruption in municipality, including senior officials, head of criminal organization.
Police announced Sunday morning that 17 local and national government officials were arrested and detained for questioning on possible underworld ties. Among the suspects are senior Rishon Lezion municipality officials very close to coalition chairman MK David Bitan (Likud) and the head of a criminal organization. Bitan himself was questioned on his involvement at the police's Lahav 433 unit.

A person very close to Bitan was also questioned under caution, while a senior Rishon Lezion municipality official, interrogated since Sunday morning, will be remanded at the Rishon Lezion Magistrates' Court.

The head of the Israel Police's Investigations and Intelligence Department Maj.-Gen. Meni Itzhaki spoke with Knesset Speaker Yuli-Yoel Edelstein early Sunday to notify him Bitan will be called in for questioning Sunday. Bitan is suspected of working on behalf a senior criminal figure in return for assistance in paying off his debts to loan sharks.

Bitan is one of the driving forces behind the effort to pass the recommendations bill, barring police from making their recommendations on indictments public. Speaking on the timing of the arrests relating to alleged benefits provided by senior municipality officials to criminals, police said, "A covert investigation into criminal elements has been ongoing for more than a year. Sunday morning the investigation reached its public phase with the arrest and detention of 17 suspects."

The Likud's Chairman of the Internal Affairs Committee MK David Amsalem, co-sponsor of the recommendations bill along with Bitan, commented on the latter's investigation. "There's an enormous army at work here including all political and media systems to bring down Prime Minister Benjamin Netanyahu. The Israel Police should investigate any complaint it receives, but what might have happened if they had waited a couple of days to interrogate Bitan? Someone is trying to thwart legislation here."

However, Attorney General Avichai Mandelblit personally authorized Bitan being questioned and the date of his questioning a month and a half ago, Ynet has learned. Senior law enforcement officials said in reference to this fact, "It turns out there was no relation between current Knesset efforts to approve the recommendations bill and Bitan being questioned today."

The officials further elucidated Bitan was suspected of fixing municipality construction tenders and other illegal activities for criminal elements, who in return extricated him from the series debts he had accrued.

Police noted the extensive operations conducted during the investigation's covert phase. Ten of those interrogated Sunday were questioned under caution and seven detained further.

Those involved in the affair are suspected of bribery, fraud, breach of trust, aggravated obtaining of illicit gifts, money laundering, tax and other offenses.

In October, reports emerged that police were examining the manner in which Bitan paid off personal debts. As part of inquiries conducted by the police's Lahav 433 anti-fraud unit into different matters relating to the Rishon Lezion municipality, testimonies were provided shedding light on how Bitan allegedly paid his debts.

Bitan was said to have accrued debts during his time as chairman of the Ironi Rishon Lezion soccer team, allegedly getting into hot water with loan sharks after borrowing money from them on behalf of his club. Checks provided by parents of children who played for the club's youth teams were later cashed with the same loan sharks.

Bitan's debts were estimated to have reached millions of shekels, while the coalition chairman himself claimed he only owed NIS 600,000, and insisted he paid them off himself and with the help of his family.

"I'm fine with (police) looking into things and investigating whatever they want. It's recycled materials. There was an inquiry in 2010, I was asked and answered everything. There's no new information. The person feeding police information I someone I have no knowledge of. I can only say the timing of this story is not coincidental. Having said that, no one will discourage me from continuing to dutifully represent my constituents," Bitan said then.