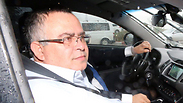 MK Bitan
Photo: Motti Kimchi
Bitan questioned for second time in corruption probe
Arriving for 2nd round of interrogation at anti-corruption Lahav 433 unit, Coalition Chairman Bitan to be questioned on Rishon LeZion corruption scandal; Bitan is suspected of receiving bribes, colluding with member of crime family in return for clearing loan shark debts.
Coalition Chairman MK David Bitan (Likud) arrived to the offices of the police's Lahav 433 anti-corruption unit Wednesday morning to be questioned for the second time on his involvement in the Rishon LeZion municipality graft affair.

Bitan is suspected of bribery, fraud, money laundering and breach of trust offenses and of receiving bribes in return for promoting the interests of other questionable people, including a member of the Jarushi crime family, in return for paying off debts to loan sharks.

Speaking to reporters when he left his home, Bitan commented on the request he had made to allow him to give interviews and criticized police leaks. "It's customary for someone being questioned to be barred from giving interviews for the investigation's duration, but they should stop leaking. We petitioned the court and will speak about it there. I've received fine support from my friends at the Likud party. When I have something to say, I'll say it," Bitan said.

Bitan's attorney Efraim Damari said Wednesday morning, "I can only say (Bitan) is greatly relieved to be coming in for questioning. He wishes to clear the air and get rid of the rumor mill surrounding him. He'll be providing his account to investigators, answer all of their questions and will come in again if he is called. I can say with certainty both his account and replies are satisfactory. We've also appealed to the court to allow Bitan to respond to the leaks and rumor mill."

Hakoah Ramat Gan soccer team owner Gal Yosef was also questioned as part of the corruption scandal involving MK Bitan, it was cleared for publication Wednesday after police raided the offices of Yosef's soccer club in the city's Winter Stadium.

Yosef was interrogated for several hours Monday on his relationship with Bitan and regarding checks the latter gave him a decade ago when he was involved with loan sharks. Yosef was released after providing a monetary bail fee after the interrogation.

Yosef's attorneys Doron Noy and Tamir Sananas of the Noy-Sananas-Sperling-Hetzroni law firm said, "Yosef's interrogation focused on his ties with Bitan dating back 10 years. There is no basis to suspect any criminal wrongdoing took place and it appears his interrogators were convinced of the same thing, as he was released without limited conditions immediately after the interrogation concluded."

The names of additional suspects allegedly involved in the Rishon LeZion corruption scandal were cleared for publication Tuesday, with many of them linked to Bitan.

Bitan served as a Rishon LeZion councilman for 28 years, and was elected to the Knesset two years ago. "Most of what we have on the affair has not yet been made public," said a police representative at a remanding hearing Tuesday.

Bitan contacted the court through his attorney and sought to remove limitations placed on him, such as a ban on giving interviews. "My wife and I are being besmirched. I stand helpless opposite the tsunami of leaks from the investigating unit. As a public figure, I've avoided using the despicable tactic used by others to convey responses through the channel known as 'leaks,'" Bitan said.

It was cleared for publication Tuesday that Bitan's wife Hagit was questioned and placed under house arrest at her sister's house until Thursday. She was forbidden from speaking to her husband to ensure they do not coordinate their accounts.

Police investigators presented Mrs. Bitan with printouts of the couple's joint account from the period her husband allegedly attempted to pay off his debts to loan sharks, estimated to have ranged in the millions.

The printouts showed a NIS 2 million deposit made on different dates seven or eight years ago. Mrs. Bitan denied the investigators' allegations and said that "(her) husband was managing the account and transferring funds. I have no idea what was going on with the account."

"You're just slandering my husband's name. We've been questioned before and the case was closed," Mrs. Bitan added, while the investigators insisted the printouts were genuine and suggested she follow up on them herself.

Bitan's driver Shaul Haknaani was also arrested on suspicion of facilitating bribery and was remanded for two days. Haknaani noted he was also Bitan's parliamentary assistant. Police said he was "up to his neck in his employer's dealings, personally involved in his actions and is his confidant."

Another suspect close to Bitan who was arrested is businessman Moshe Yosef, suspected of bribing public officials. Yosef, considered by police to be a prime suspect, is suspected of bribery and his arrest was extended by 12 days.

He was arrested Sunday, when the affair first became public and almost twenty others were arrested, including public officials and members of the Jarushi crime family.

Rishon LeZion Mayor Dov Zur was also arrested on suspicion of involvement in the affair. Zur, elected eight years ago, appointed Bitan to be his deputy mayor. He is expected to be remanded again Thursday and is suspected of selling land to an entrepreneur he was friends with.

Investigators suspect the land on which the Lago Events Hall was built was purchased for less than market value and that Zur, who recused himself from council meeting related to the sale due to a conflict of interests, is said to have supported the sale from behind the scenes.