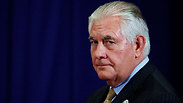 Sect. of State Tillerson
Photo: Reuters
Tillerson: 'Status of J'lem not final'
Sect. of State Tillerson says status of J'lem—including borders—not final, to be decided in negotiations between Israel, Palestinians; US Embassy move from Tel Aviv to capital will not happen within next 2 years, Tillerson adds, citing security, bureaucratic reasons.
United States Secretary of State Rex Tillerson said on Friday the "status of Jerusalem was not final" and that it will be some time before the US is able to move its embassy to from Tel Aviv to Jerusalem, pursuant to President Donald Trump's speech earlier this week recognizing Jerusalem as Israel's capital and announcing the planned embassy move.

Any final decision on the status of Jerusalem will depend on negotiations between Israelis and Palestinians, Tillerson said, appearing to add nuance to President Trump's decision.

"With respect to the rest of Jerusalem the president ... did not indicate any final status for Jerusalem," Tillerson said, speaking at a news conference in Paris alongside French Foreign Minister Jean-Yves Le Drian.

"He was very clear that the final status, including the borders, would be left to the two parties to negotiate and decide," Tillerson said.

Tillerson said it was unlikely the embassy would move anytime soon, saying that it would "probably not (move) next year" either. It is expected to take several years to make the transition, both for security and other reasons.

Tillerson's conciliatory statement did little to ameliorate sentiment in Gaza and the West Bank, with thousands of Palestinians demonstrating all over Friday afternoon. One protester was killed and hundreds were wounded. Protests sparked across the Middle East and farther away, with thousands demonstrating in Jordan's Amman and Irbid and in the Fatih Mosque in Istanbul. Some 5,000 others demonstrated in Beirut, Lebanon with many others marching in Saudi Arabia and Kashmir, among other places.

Earlier Friday Russian Foreign Minister Sergei Lavrov said the recognition of Jerusalem as Israel's capital by the US ran counter to common sense while Russia warned that US recognition may lead to escalation in the Israeli-Palestinian conflict and called on all parties to show restraint.

Turkish sources said Russian President Vladimir Putin will visit Turkey next week to discuss recent developments surrounding Jerusalem and the situation in Syria with his Turkish counterpart Recep Tayyip Erdoğan. The Kremlin verified the visit and said the leaders will discuss "important international problems."

Erdoğan and Putin spoke on the phone Thursday and concurred the US decision to recognize Jerusalem as capital will negatively impact the peace process and the region's stability.