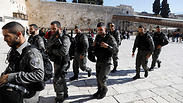 IDF soldiers at the Old City
Photo: Reuters
2 killed, 300 wounded when Palestinians clash with IDF in Jerusalem, West Bank and Gaza in 'Day of Rage'
Thousands of Palestinians congregate to protest President Trump's recognition of J'lem as Israel's capital; 2 killed, 55 wounded in violent clashes with IDF near Gaza, 250 others wounded in West Bank, reports Palestinian Health Ministry; 'Soldiers fired selectively towards two main instigators, confirmed hits,' says IDF.
Two Palestinians died and 300 others were wounded in clashes with the IDF taking place in the West Bank and near the Gaza Strip border Friday afternoon, the Palestinian Ministry of Health reported. The Palestinians demonstrated in protest of President Donald Trump's decision to recognize Jerusalem as Israel's capital earlier this week.
At least 23 were wounded by live fire, the ministry said, but their lives were not in danger. The remaining wounded were hit by rubber bullets and tear gas grenades. 22 Palestinians were wounded in confrontations near the border fence.
Hundreds of youths congregated in six places near the Gaza border, threw rocks at security forces and burned tires. The IDF—deployed in the area en masse in anticipation of the riots—fired tear gas and used other crowd control methods to disperse the protesters and prevent them crossing the border.
"During the riots IDF soldiers fired selectively towards two main instigators and hits were confirmed," the army said.
Coordinator of Government Activities in the Territories Maj.-Gen. Yoav Mordechai spoke directly to Palestinians through his Facebook page and said, "Extremists with their own agenda wish to incite the public with lies and distortions because this is a religious war, but when it comes down to it violence will only harm the Palestinian public."
"I beseech you, do not let extremists disrupt Christmas, the tourists heading your way and the calm, without which an significant positive progress may be jammed or ruined," Mordechai added.
"I assure you, the status quo in Jerusalem in general and in Al-Aqsa in particular has been maintained. Do not listen to extremists who wish to harm you in their calls to violence. There has been no change on the ground, the Friday prayers were held as usual, the passages are open and laborers are entering Israel. A violent reality will only harm the Palestinian public, which is incited by lies on religious wars and safeguarding the holy sites. I hereby announce: Israel safeguards the holy sites and freedom of worship. Anyone who says otherwise is lying," Mordechai appealed.
In light of mounting tensions and protests, the Israel Police said it was deploying in increased numbers all across Israel but specifically in Jerusalem and the West Bank.
Worshipers left the Temple Mount after Friday prayers relatively without incident, despite around Damascus Gate in the Old City where dozens of protesters were dispersed by police and Border Police forces with two people detained for questioning.
By the early afternoon, West Bank skirmishes between the rioters and IDF forces were preceded by the burning of Israeli flags, and eventually broke out in Bethlehem, Ramallah, Hebron and Huwara near Nablus, prompting Israeli soldiers to propel tear gas canisters into the crowds and fire rubber bullets.
While the main wave of riots engulfed the Old City and the aforementioned cities, ripples could also be felt in Kafr Qasim and various points in northern Israel.
By 2:30pm, relative calm was restored in Jerusalem.
Thousands of Gaza residents also assembled at the Israeli border and hurled rocks at IDF soldiers and burned tires.
The Gaza-ruling Hamas terror group is also holding marches in Jabalia and Beit Lahia.
Despite Palestinian factions calling for a "Day of Rage" after the prayers following Trump's declaration, the IDF granted unfettered access to the mosque while preparing for a continuation of Thursday's clashes.
Policemen and Border Police soldiers fanned out at sensitive locations in the Old City, including Damascus Gate, Herod's Gate, Lions' Gate and main streets leading to the area that have in the past become symbolic flashpoints of Palestinian violent disturbances.
Worshipers leaving the mosque called out chants such as "The war is coming, al-Quds (Jerusalem) is Arab," "We will die as martyrs," and "There is no room for the State of Israel."
Worshipers leaving the mosque called out chants such as "The war is coming, al-Quds (Jerusalem) is Arab," "We will die as martyrs," and "There is no room for the State of Israel."
According to the report, one of the protestors was wounded in the neck, reportedly from a rubber bullet, while the other sustained injuries from live rounds.
Hassan Shaalan, Yoav Zitun, Yishai Porat, Roi Kais, Liad Osmo and Elisha Ben Kimon contributed to this report.