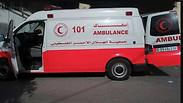 File photo: Red Crescent ambulance
IDF to conduct inquiry into shooting of unarmed Palestinian
Palestinian shot, seriously wounded by IDF force near Palestinian city of Salfit; IDF force involved says he was seen to be tampering with Gaza border fence, reached into pocket suspiciously; fearing he was carrying knife, force shot him; search later found no weapons on his person; IDF says investigation is underway.
The IDF announced Tuesday afternoon it will conduct an inquiry into the shooting of a Palestinian who was later found to be unarmed near the Palestinian city of Salfit, not far from Ariel.

Initially, the army reported an attempted stabbing in the Efraim Territorial Brigade that was foiled without any soldiers being harmed. The Palestinian who was shot was said to be in serious condition.

Additional information put out by the IDF Spokesperson's Unit said that "Several Palestinians suspected of an attempt to damage the border fence near Ariel drew close to an IDF force. One of them placed his hand in his pocket and appeared to be drawing a knife. The force shot at him in retaliation."

It was also conveyed the suspect received treatment on-site by the IDF force and was taken to a hospital for further treatment.

An initial inquiry turned up the force—belonging to the Kfir Brigade—ascertained the Palestinian was damaging the border fence. The Palestinian then approached one of the force's soldiers, it was claimed, and put his hand into his pocket suspiciously. The force rapidly responded by opening fire at the suspect, seriously wounding him. A search on his person then found he was not armed.

The army's Criminal Investigation Division (CID) conducted an inquiry two months ago into an incident where Givati soldiers fired on a car found to be driven suspiciously, killing its driver Mohammad Moussa near Halamish in Binyamin.

Moussa's sister Latifa, present in the car with him at the time, was wounded and taken to a Ramallah hospital for treatment. An inspection of the car found no weapons and the incident was therefore not deemed an attempted terrorist attack. The soldiers involved were asked to provide their account simultaneous to the command inquiry.

The soldiers claimed they had felt threatened and were forewarned of a suspicious vehicle present in the sector, which they claimed constituted the reason for the shooting.

Hours after the incident, however, the IDF announced that "An initial inquiry into the incident near the village of Nabi Salih turned up the force stationed in the square received a report of a vehicle driving erratically and was asked to flag it down. Obtaining a visual on the car, the force stepped onto the road and ordered it to stop.

"When the driver failed to comply, the force retaliated by opening fire. As a result, the driver was killed and another occupant was wounded. Investigation is ongoing."