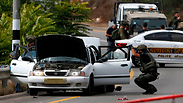 The vehicle involved in the incident
Photo: AFP
CID inquiry rules out terrorism in Halamish vehicle attack
Army's Criminal Investigation Division has ruled out terrorism as motive for vehicle driving suspiciously towards Givati soldiers stationed near Halamish; soldiers shot at vehicle after driver was non-compliant when asked to stop, killing him and wounding a passenger.
The IDF's Criminal Investigation Division (CID) started its inquiry into the incident in which soldiers from the Givati Brigade fired at a vehicle driving suspiciously and caused the death of Palestinian Mohammad Moussa near Neve Tzuf (Halamish) in the Binyamin Regional Council. A CID preliminary conclusion stated that Moussa was not trying to carry out a terrorist attack.

Moussa's sister, Latifa, who was in the vehicle with him when the soldiers opened fire on it and killed him, was wounded and taken to a Ramallah hospital for treatment.

An inspection of the car turned up no weapons, and the incident was therefore not defined as an attempted terrorist attack. Simultaneous to the army command's inquiry, the soldier will communicate their account of the events.

Hours after the shooting, the IDF announced that "a preliminary inquest into the event near Nabi Salih village turned up a force stationed at the village's square received a report of a vehicle driving suspiciously and was asked to detain it."

"The force flagged the vehicle down and ordered it to stop. After the driver would not comply, the soldiers retaliated by shooting at it. As a result, the driver was killed and another occupant was wounded. The inquiry is under progress," the IDF's comment concluded.