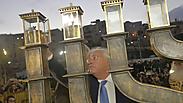 Ambassador Friedman
Photo: The Western Wall Heritage Foundation
The US Ambassador David Friedman lit the Hanukkah menorah at the Western Wall Wednesday evening to mark the second night of the eight-day Jewish festival of lights.

The lighting ceremony was attended by thousands as Friedman was flanked by the Western Wall Rabbi Shmuel Rabinovitch, Jerusalem city's Rabbi Shlomo Amar and Minister of Tourism Yariv Levin.

"It is a huge honor for me and I am extremely excited to be standing here at this holy site and to light the second Hanukkah candle in Jerusalem, the holy city and the capital of the State of Israel," Friedman said in Hebrew, a week after President Donald Trump recognized the city as Israel's capital.

Ambassador Friedman lights candles at the Kotel

Friedman, who observes Mitzvot (Jewish commandments), blessed the Jewish people of Israel on behalf of President Trump.

"Over 2,000 years ago, the Second Temple was conquered by the Greek King Antiochus," Friedman said. "In the great book of victory, the Hashmonaim declared eight days of Hanukkah. It all happened 2,184 years ago, and it all happened a few meters away from the spot I am standing now."

Friedman has long been known for harboring views that were inconsistent with traditional American policy before the Trump administration entered the White House, sparking fears among his detractors that he would subordinate US policy matters to his religious views.

In September, he raised eyebrows by saying that Israel occupies just two percent of the West Bank and that settlements there are part of the Jewish state proper.

"I think the settlements are part of Israel," Friedman said in an interview with an Israeli news site.

He also generated controversy before being nominated as Trump's ambassador to Israel when he said that members of the left-wing Jewish organization J Street in the US were worse than kapos—Jewish prisoners in Nazi concentration camps who were tasked with guarding and managing the other prisoners.

"They are far worse than kapos—Jews who turned in their fellow Jews in the Nazi death camps," he said. "The kapos faced extraordinary cruelty and who knows what any of us would have done under those circumstances to save a loved one? But J Street? They are just smug advocates of Israel's destruction delivered from the comfort of their secure American sofas—it's hard to imagine anyone worse."

Moreover, Friedman infuriated Democrats by calling Barack Obama a "blatant anti-Semite."

Liron Nagler-Cohen, Itamar Eichner, Eli Mendelbaum and Yael Friedson contributed to this report.