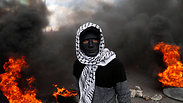 Palestinian protester in Nablus
Photo: Reuters
Three Palestinian rioters and one terrorist were shot dead while about 160 more were wounded on Friday, medical officials said, as "Day of Rage" protests over US President Donald Trump's recognition of Jerusalem as Israel's capital entered their second week.

The IDF reported that some 3,500 Palestinians were rioting in nine different locations across the Gaza Strip and another 2,500 were rioting at various locations in the West Bank, burning tires and throwing Molotov cocktails and stones at IDF and Border Police forces.

Most of the casualties, including the two who were killed, were on the Gaza Strip border, where thousands of Palestinians gathered to hurl rocks at Israeli soldiers beyond the fortified fence. About 150 rioters were wounded in the clashes there.

One of the protesters killed in the strip is a paraplegic demonstrator who was wounded in Operation Protective Edge and recently participated in demonstrations against Israel. Palestinians sources say he was shot in the head.

The second casualty in the Gaza Strip, 32, was shot in the same demonstration.

In the West Bank, another territory where Palestinians seek statehood along with adjacent east Jerusalem, one rioter from the town of 'Anata was shot, later dying of his wounds, while ten more were wounded by Israeli gunfire.

Another was shot after he stabbed and moderately wounded a member of the Israel Border Police. Reuters witnesses said the Palestinian had a knife and wore what looked like an explosive belt. A Palestinian medic said the belt was fake. He died in the hospital shortly after.

Terrorist wearing fake explosive belt stabs Israeli Border Police trooper, is shot and neutralized

Palestinians—and the wider Arab and Muslim world—were incensed at Trump's Dec. 6 announcement, which reversed decades of US policy reticence on Jerusalem, a city where both Israel and the Palestinians want sovereignty.

Washington's European allies and Russia have also voiced worries about Trump's decision.

Gaza's dominant Hamas Islamists, which reject coexistence with Israel, called last week for a new Palestinian uprising, but any such mass-mobilization has yet to be seen in the West Bank or East Jerusalem.