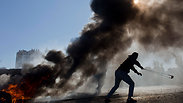 Protests in West Bank
Photo: AP
Border cop wounded in West Bank stabbing attack, terrorist killed
Incident occurs during clashes between Palestinians and Israeli security forces when a terrorist pulls a knife on a group of Border Police soldiers, inflicting moderate wounds on one before being shot and neutralized; IDF says terrorist may have been wearing an explosive belt.
A Palestinian stabbed an Israel Border Policemen in the West Bank Square near Ramalla Friday afternoon, leaving him moderately wounded before being shot by security forces.

The terrorist ran with a knife at the soldiers facing riots in the area in yet another "Day of Rage" and stabbed one of them in the shoulder. The soldier was originally said to be in light condition and was later evacuated to Hadassah Mt. Scopus Hospital where he was said to be in moderate condition.

Video of the incident

The terrorist, a young resident of Hebron, later succumbed to his wounds in the hospital.

According to the IDF, the terrorist was wearing what appeared to be an explosive belt. However, soldiers had no time to confirm whether it was real or not due to the rapid evacuation by the Red Crescent of the terrorist who was said to be in critical condition. Palestinian security officials reported to Ynet that the explosive belt was fake.

Violence erupted for a second consecutive Friday following afternoon Islamic prayers, as rioters vented their anger against President Trump's recognition of Jerusalem as Israel's capital and also marked 30 years since the founding of the Hamas terror movement.

Gaza Health Ministry spokesman Ashraf al-Kidra said 16 Palestinians were injured in clashes in two locations along Gaza's border with Israel. He said one was seriously wounded and in critical condition, while another 15 were in moderate condition.

While not directly responding to the report, IDF officials said that during the violent disturbances, shots were fired at central instigators.

In Nablus and Ramallah there were rallies organized by Hamas with the participation of hundreds of Palestinians. The rallies took place in city centers, with Palestinian security forces allowing them to proceed in set area.

In several locations in the West Bank, among them Hebron, Bethlehem, the Qalandiya crossing and near the town of Talmon in Binyamin, dozens of Palestinian youths clashed with Israeli security forces.

The IDF reported that some 3,500 Palestinians were rioting in nine different locations across the Gaza Strip and another 2,500 were rioting at various locations in the West Bank, burning tires and throwing Molotov cocktails and stones at IDF and Border Police forces.

In Jerusalem, too, there was friction between the police and demonstrators at the Damascus Gate.

Residents of east Jerusalem leaving Friday prayers on the Temple Mount began shouting incendiary chants such as "In spirit and in blood we will redeem you, Palestine" and "Jerusalem is Arab." They were dispersed by police forces shortly after.