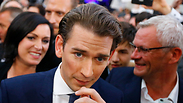 People's Party's Sebastian Kurz
Photo: Reuters
Austria's Kurz strikes deal to bring far right into government
Austrian Chancellor-elect and leader of conservative People's Party Kurz reaches coalition agreement with Strache's far-right Freedom Party; 'We wish to make country more secure,' say leaders of the anti-immigration parties in joint press conference.
Austrian conservatives led by Sebastian Kurz reached a coalition deal with the anti-immigration Freedom Party—which is virulently anti-immigration and has anti-Semitic roots—on Friday, paving the way for Austria to become the only western European country with a far-right party in government.

The agreement, two months after a parliamentary election dominated by Europe's migration crisis, ends more than a decade in opposition for the Freedom Party (FPO), which last entered government in 2000 with the People's Party (OVP) that Kurz now leads.

"We can inform you that there is a turquoise-blue agreement," Kurz said in a joint statement to reporters with FPO leader Heinz-Christian Strache, referring to their two parties by their colors.

Strache and Kurz said the details of their deal would be made public on Saturday, after a meeting with President Alexander Van der Bellen and discussions with their parties' leadership structures.

"We want to reduce the burden on taxpayers ... and above all we want to ensure greater security in our country, including through the fight against illegal immigration," Kurz said, touching on core issues for both parties.

The People's Party, led by 31-year-old Kurz, won the October election with more than 30 percent of the votes, but since it failed to achieve a parliamentary majority Kurz was forced to form a coalition government with the Freedom Party.

The hard-line right-wing party was considered a natural partner for Kurz's party due to their similar stances on immigration and the need to curtail it.

"Heinz-Christian Strache's Freedom Party has clear anti-Semitic characteristics despite its attempt at hiding them," Austrian sources declared in a state report obtained by Ynet and Yedioth Ahronoth two months ago.

The party was formerly headed by Jörg Haider, the son of Nazi party members who praised Adolf Hitler's employment policies.