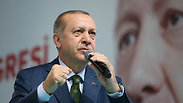 President of Turkey Erdoğan
Photo: AP
Turkey intends to open an embassy in east Jerusalem, President Recep Tayyip Erdoğan said on Sunday, days after leading calls at a summit of Muslim leaders for the world to recognize it as the capital of Palestine.

It was not clear how he would carry out the move, as Israel controls all of Jerusalem and calls the city its indivisible capital.

The Muslim nation summit was a response to US President Donald Trump's December 6 decision to recognize Jerusalem as Israel's capital. His move broke with decades of US policy and international consensus that the city's status must be left to Israeli-Palestinian peace negotiations.

Erdoğan said in a speech to members of his AK Party in the southern province of Karaman that Turkey's consulate general in Jerusalem was already represented by an ambassador.

"God willing, the day is close when officially, with God's permission, we will open our embassy there," Erdoğan said.

Jerusalem is home to Islam's third holiest shrine, as well as Judaism's Western Wall, which is situated by the latter's holiest site, the Temple Mount—both in the eastern sector.

Jews have restricted access to the Temple Mount as part of the status quo agreement with Jordan and has been at the heart of the Israeli-Palestinian conflict for decades.

Foreign embassies in Israel, including Turkey's, are located in Tel Aviv, reflecting Jerusalem's unresolved status, but Israel has long urged countries to move their embassies to Jerusalem and recognize it as the capital.

A communiqué issued after Wednesday's summit of more than 50 Muslim countries, including US allies, said they considered Trump's move to be a declaration that Washington was withdrawing from its role "as sponsor of peace" in the Middle East.