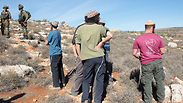 Scene of the attack
Photo: Hillel Meir/TPS
The police have concluded their investigation into the incident in Qursa, when a Palestinian rioter was shot dead by an Israeli settler, determining the shooting was done in self defense, and that there is no sufficient evidence to warrant prosecution.

The case was passed on to the State Attorney's Office on Wednesday.

Earlier this month, a group of 20 Israeli teens hiking near the village of Qusra came under attack by a group of Palestinian rioters who started hurling stones at them.

The two parents who accompanied them rushed the teens to a nearby cave to hide, while one father shot and killed one of the rioters, 47-year-old Mahmoud Za'al Odeh.

"Dozens of Palestinians threw stones and rocks at us, we were in a life-threatening situation, and we were trying to protect the children," said the father, whose son was among the group. "I had to shoot in self-defense. I hope common sense prevails, and people understand what happened here."

After the shooting, dozens of Palestinians surrounded the cave where the teens were hiding and continued throwing stones.

The Israelis were eventually rescued by IDF forces that arrived at the scene.

Following the incident, the father was questioned on suspicion of causing death by negligence.

Some 20 Palestinians suspected of taking part in the violent rioting and throwing stones were arrested, and one was charged with attempted murder on Monday. The court extended the remand of the other suspects.

Attorney Adi Kidar of Honenu, who represents the two fathers, welcomed the police announcement. "My clients acted in line with the law, as any citizen in clear and immediate danger is expected to act. In an ideal situation, the fathers who accompanied the bar mitzvah trip would've received a certificate of appreciation from day one. They risked their lives in a very serious incident to protect the kids and themselves. Unfortunately, they found themselves under investigation. I'm glad the Israel Police announced today that their version has been checked and accepted. Now we expect the police to put their efforts into bringing all of the rioters to justice."