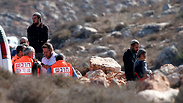 The Military Advocate General filed an indictment Monday against Muhammad Wadi, for attempted murder in the incident near the Palestinian village of Qusra in the northern West Bank where a group of Jewish settlers were attacked about two weeks ago.

According to the indictment, during the incident, Wadi entered the cave where the settlers, most of whom were children, were sheltering from a pursuing Palestinian mob and hurled large stones at close range at them. Some of the stones hit their chaperone and caused him a head injury.

According to the settlers, Qusra residents attacked them while they were hiking in the area to celebrate a bar mitzvah, and in response the children's chaperone fired his weapon and killed one of the attackers in self defense.

The shooter was questioned by the police on suspicion of causing death by negligence and subsequently released.

According to him, the group was in dire danger after "Dozens of Palestinians threw rocks" at them.

"We were in a life-threatening situation, and we were trying to protect the children," added the man, whose son was among the group.

"I had to shoot in self-defense. I hope common sense prevails, and people understand what happened here."

Over the next few days, security forces arrested 20 Qusra residents on suspicion of attacking the Israelis and participating in violent disturbances in the days following the incident.

A week after the incident, dozens of hikers returned to the scene Friday to celebrate the bar mitzvah of Avizur Libman, thereby completing the trip that was cut short due to the attack.

The hikers stopped off at the cave where the children hid last week to shield themselves from the stones thrown at them by Palestinians. Head of the Shomron Regional Council Yossi Dagan, Agriculture Minister Uri Ariel and Deputy Minister of Foreign Affairs Tzipi Hotovely all participated in the trip.