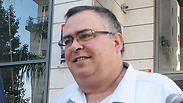 MK David Bitan
Photo: Shaul Golan
MK David Bitan (Likud) asked Prime Minister Benjamin Netanyahu on Wednesday to relieve him of his role as the chairman of the coalition amid a police corruption investigation against him.

In a statement issued by Bitan, he explained he wanted to step down from the role "due to the fact the current situation makes it difficult for me to do my job, and I do not want to impede the work of the coalition."

Bitan went on to say he "thanks the prime minister for the trust and support all along. I will continue serving with great honor as an MK for the Likud party and do everything in my power to continue representing the public who put his trust in me."

Likud MK David Amsalem, chairman of the Internal Affairs and Environment Committee of the Knesset, is set to replace Bitan with the position.

Among the candidates to replace Bitan was MK Yoav Kish (Likud). After Amsalem's election to the post, Kish congratulated him on the appointment, saying he will "help him as much as possible."

"I was offered the position of Chairman of the Internal Affairs Committee by the Prime Minister," he added. "I will decide on this in the coming days."

Bitan is suspected of bribery, fraud, money laundering and breach of trust offenses and of receiving bribes in return for promoting the interests of others, including a member of the Jarushi crime family, in return for paying off debts to loan sharks.

Police are working to recruit one of two suspects in the case as a state witness. One option is Moshe Yosef, a businessman dubbed Bitan's "banker," while the other is real estate developer Dror Glazer, who is suspected of giving Bitan NIS 250,000 in bribes.