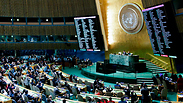 UN General Assembly
Photo: AFP
The General Assembly
convened
on Thursday for an emergency session, passing with a decisive 128-9 with 35 abstentions a resolution declaring US President Donald Trump's decision to
recognize
of Jerusalem as the capital of Israel "null and void."
Thursday's vote, while a victory for the Palestinians, was significantly lower than its supporters had hoped for, with many forecasting at least 150 "yes" votes. It is noteworthy that 21 countries were absent.
"Israel rejects the UN decision and at the same time is satisfied with the high number of countries that did not vote in its favor," said a statement from Prime Minister Benjamin Netanyahu's office, echoing his statement prior to the vote.
"Israel thanks (US) President Trump for his unequivocal position in favor of Jerusalem and thanks the countries that voted together with Israel, together with the truth," it said.
Turkey's foreign minister said the UN members had shown that "dignity and sovereignty are not for sale" by voting in favor of the resolution.
In comments made on Twitter, Foreign Minister Mevlut Cavusoglu also said that Turkey, Palestine and other co-sponsors thanked every country that supported the resolution in the United Nations General Assembly.
A spokesman for Western-backed Palestinian President Mahmoud Abbas welcomed the vote's result.
"The vote is a victory for Palestine," said Abbas spokesman Nabil Abu Rdainah. "We will continue our efforts in the United Nations and at all international forums to put an end to this occupation and to establish our Palestinian state with east Jerusalem as its capital."
Palestinian Foreign Minister Riyad Al-Maliki said prior to the vote that this assembly would teach future generations how Palestinian diplomacy succeeded in defeating the world's greatest superpower.
Al-Maliki also referred to the American threats to deny aid to countries that would vote against the resolution, calling it diplomatic and political ignorance that the United States has forced states, including poor ones, to declare that they are giving up US aid.
At the assembly, Yemen's UN ambassador introduced the UN resolution, urging all "peace-loving countries" to vote in favor of it.
Ambassador Khaled Hussein Mohamed Alyemany called President Donald Trump's action "a blatant violation of the rights of the Palestinian people and the Arab nations, and all Muslims and Christians of the world."
He added the US decision "is considered a dangerous violation and breach of international law."
Alyemany says it threatens peace in the world, undermines any chance for peace in the Mideast "and only serves to fan the fires of violence and extremism."
Stepping up to the podium, US Ambassador Nikki Haley responded to Alyemany and to the resolution in general by threatening the 193 UN member states and the United Nations with funding cuts should approves it.
Haley told the emergency assembly meeting that "no vote in the United Nations will make any difference" on the US decision to move its embassy to Jerusalem, which will go ahead "no matter what" because "it is the right thing to do."
She then stressed that "the United States will remember this day in which it was singled out for attack in the General Assembly for the very right of exercising our right as a sovereign nation."
"We will remember it when we are called upon once again to make the world's largest contribution to the United Nations," she warned. "And we will remember when so many countries come calling on us, as they so often do, to pay even more and to use our influence for their benefit."
Haley summarized by saying the vote "will make a difference on how Americans look at the UN and on how we look at countries who disrespect us in the UN, and this vote will be remembered."
Israel's UN ambassador Danny Danon blasted the UN resolution, saying it will eventually be rejected and end up in the "trash bin of history."
"Forty-two years ago this body adopted a different shameful resolution equating Zionism with racism. It took 16 long years for that hateful resolution to be revoked," he said.
"I have no doubt that today's resolution will also end up eventually in the trash bin of history. I have no doubt that the day will come when the entire international community will finally recognize Jerusalem as the eternal capital of the State of Israel," he added.
"No General Assembly resolution will ever drive us from Jerusalem," he continued. "It is shameful for the United Nations that I stand here today and that the conference is even taking place.
"Jerusalem is the holiest place for Israel and the Jewish people, period. This is an indisputable fact. King David declared it 3,000 years ago. In the Jewish Bible Jerusalem mentioned 660 times, we prayed repeatedly to reach Jerusalem.
"'(First Prime Minister of Israel) David Ben-Gurion himself said that 'Jerusalem is an inseparable part of the future and fate of Israel.'"
Driving the point home, Danon then presented an ancient Jerusalem coin. "The coin I'm presenting is from 67 CE and it says 'Freedom of Zion,'" he said. "This is clear evidence from the time of the Second Temple, and proves a direct connection between Jews and Jerusalem."
The resolution is very similar to the defeated Security Council resolution, which was vetoed by the US on Monday.
It reaffirms 10 Security Council resolutions on Jerusalem, dating back to 1967, including requirements that the city's final status must be decided in direct negotiations between Israel and the Palestinians.
It "affirms that any decisions and actions which purport to have altered, the character, status or demographic composition of the holy city of Jerusalem have no legal effect, are null and void and must be rescinded."
The resolution also "demands that all states comply with Security Council resolutions regarding the holy city of Jerusalem, and not to recognize any actions or measures contrary to those resolutions."