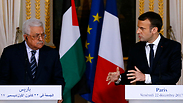 Abbas and Macron
Photo: AP
Abbas: US has disqualified itself from Mideast peace process
Speaking in a joint press conference with French President Macron, PA president says Palestinians cannot accept any US-led initiative after Trump's decision to recognize Jerusalem as Israel's capital; slams threats made by the US president to impose financial cuts on countries who voted in favor of UN General Assembly resolution declaring US move 'null and void.'
The United States has "disqualified" itself from the Middle East peace process due to its recognition of Jerusalem as Israel's capital, said Palestinian Authority President Mahmoud Abbas on Friday.

"The United States are no longer an honest mediator in the peace process, we will not accept any plan put forward by the United States because of this partisan spirit," said Abbas, speaking through a translator at a joint news briefing in Paris with French President Emmanuel Macron.


"We want peace with Israel and we want to reach a solution peacefully, and there is no solution without Jerusalem," he added. "Recognition of a Palestinian state is an investment in peace. We are the ones who expound a culture of peace and not war."

To underscore the point, he told his listeners to watch the protests that are taking place in Palestinian territories which he argued are being conducted peacefully, "and still Palestinians have been killed."

In a letter sent to Palestinians before his joint press conference with Macron, Abbas said that President Donald Trump's Jerusalem declaration "to support violations against the Palestinian people" meant that "we will not agree to the US being a mediator in the peace process and we will not accept any American peace initiative. The US chose to be biased."

"We cannot accept any American initiative," Abbas stated in the Élysée Palace as yet another day of rage erupted in the West Bank at the conclusion of Friday prayers near Rachel's Tomb, in Bethlehem and at the entrance of the Palestinian refugee camp Al-Arroub in northern Hebron.

Abbas also condemned during his statement in France a threat by Trump to cut off financial aid to countries that voted at the United Nations against the United States' decision to recognize Jerusalem as Israel's capital.

On Thursday, more than 120 countries defied Trump and voted in favour of a United Nations General Assembly resolution calling for the United States to drop its recent recognition of Jerusalem as Israel's capital.

Macron reiterated on Friday that France remained committed to a "two-state" solution which catered for and Israel and Palestinian state peacefully co-existing side-by-side with one another.

Macron added that France would recognize a Palestinian state "at the right time", and not under pressure.

Also on Friday, Turkish President Tayyip Erdogan called for the United States to step back from its decision on Jerusalem.

"Despite threats, the UN took an honourable stance," Erdogan said at a meeting of his AK Party in Istanbul. "The US should turn back from this wrong step."

"The US attitude ahead of the UN vote will be remembered in the history of democracy as an ugly and unforgivable act," Erdogan added. "The White House picked up the phone and called these countries one by one, threatening them blatantly," Erdogan said, without elaborating.