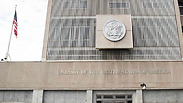 US Embassy in Israel
Photo: AFP
After Guatemalan President Jimmy Morales announced Sunday night his country will be transferring its embassy from Tel Aviv to Jerusalem, Israel is surmising that another one or two other countries will be joining US President Donald Trump in making the move.

According to initial assessments, Guatemala's eastern neighbor Hondorus will be one of the countries, while Paraguay is also expected to join the trickle of embassies flowing into Jerusalem.

The two Central American countries, Honduras and Guatemala, were among the seven countries that voted with the US and Israel against a United Nations General Assembly resolution last Thursday which declared Trump's declaration "null and void."

Paraguay abstained from the vote, despite having demonstrated in the past its particularly pro-Israel disposition.

Despite Guatemala's decision and Israel's optimism that the other two countries will follow suit, significant delays are expected to take place before any moves are actually taken.

In his announcement, President Jimmy Morales said that the moving of his embassy would take place only after the US led the way, but Washington's decision is also expected to encounter significant delays that could last years, potentially outliving the Trump administration.

Guatemala kept its embassy in Jerusalem until 1980, but following Israel's decision to adopt the Jerusalem Law in 1980 declaring their city to be its united capital, a diplomatic spat ensued with a number of countries, Guatemala among them, which chose to move its embassy from Jerusalem to Tel Aviv in protest.

"God bless you, my friend, President Jimmy Morales, God bless both our countries, Israel and Guatemala. We're awaiting you here in Jerusalem," Netanyahu said, switching to English, in remarks to a weekly meeting of his Likud party faction in parliament.

With Morales' latest announcement, therefore, moving the embassy to Jerusalem would constitute a "return."

Morales made his announcement in a Facebook post on Christmas Eve, following a conversation he had held with Prime Minister Benjamin Netanyahu and in the wake of Trump's declaration on Jerusalem.

Morales also has a vested interest in moving his embassy to Jerusalem as he attempts to further consolidate cooperative ties with Israel in a variety of fields, and also solicit economic assistance from Washington as the country steps up its battle against crime and drugs.

In addition, toeing the American line on Jerusalem is potentially a politically prudent move, enabling him to curry favor with the country's strong Evangelical base. Indeed, both the Guatemalan president and foreign minister are Evangelical Christians and are considered to be staunchly pro-Israel.

According to Israeli sources, Morales was determined from the outset to move his country's embassy to Jerusalem, but was waiting for the US to take the plunge in order to lend the unprecedented move the required legitimacy.

A further impetus was given to the legitimacy when 35 countries chose to abstain in the UN vote while 21 were absent.

President Reuven Rivlin praised Morales' decision, saying "Guatemala showed the entire world last night that it too knows that Israel is the capital of Israel.

"I welcome the decision to move the embassy to Jerusalem am grateful for the friendship between the two countries. We are waiting for you in Jerusalem!" an elated Rivlin wrote.