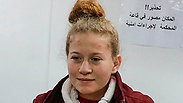 Ahed Tamimi. 'Strong and tough'
Photo: AFP
Abbas lauds father of girl who provoked IDF soldiers
Palestinian president telephones Bassem Tamimi, father of 17-year-old Ahed Tamimi who was documented recently slapping and cursing troops in Nabi Salih, praises family members for key role they have been playing in weekly protests held in their village.
Palestinian President Mahmoud Abbas telephoned the father of the girl who was documented recently slapping and cursing IDF soldiers in the village of Nabi Salih, to lift his spirits and ask about his daughter, Abbas' office said in a statement released Wednesday.

According to the statement, the Palestinian leader praised the Tamimi family members for the key role they have been playing in the weekly protests held in their village.

The father, Bassem Tamimi, a well-known Fatah activist, said that his 17-year-old daughter Ahed, who is still in custody, is strong, tough, believes in the rightness of her way and is willing to "challenge" the Israeli occupation.

Ahed Tamimi was arrested last week following the publication of a video showing her and her cousin provoking soldiers standing near her home during the Nabi Salih protests. The two soldiers practiced restraint and did not respond to the provocation.

Tamini provoking IDF soldiers in Nabi Salih

Bassem Tamimi said in an interview with Ynet after the incident that "the occupation forces from the Border Police behaved cruelly and used violence. They carried out searches in our home and caused damage, they confiscated computers, cell phones, cameras and every other electronic device. They hit the children afterwards and forcefully took their phones."

He insisted that the arrest had taken place in the aftermath of media incitement which he said caused a public interest in Israeli society.

"Yesterday, I saw in the Israeli media that people were calling to demonstrate against Ahed in the streets of Tel Aviv, after they tried to describe the dangerous soldier as a victim of Ahed's actions," Bassem said. "It is important to point out here that this soldier was present in the compound of our home."

Ahed Tamimi first made headlined in 2012, when a video showing her cursing and spitting on an IDF soldier was uploaded to YouTube. Following the video, she was invited to have breakfast with then-Turkish Prime Minister Recep Tayyip Erdogan.