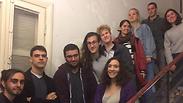 Student draft refusers
Photo: Lana Turral
Sixty-three draft age youngsters from around Israel sent a letter Thursday to Prime Minister Benjamin Netanyahu, Defense Minister Avigdor Lieberman, Education Minister Naftali Bennet and IDF Chief of Staff Lt. Gen. Gadi Eisenkot declaring their refusal to enlist in the IDF due to their belief that it serves to opress the Palestinian people.

"The military carries out a racist government policy that violates basic human rights and imposes one version of law for Israelis and another for Palestinians–on the same territory," wrote the draft refusers.

"We therefore have decided not to participate in the occupation and oppression of the Palestinian people which separates people into two hostile camps. The 'temporary' situation has been ongoing for 50 years and we will not continue to enable it," they continued.

In the letter, they accuse the government of instigating the Israeli population against Palestinians and Arab citizens. They referred to Lieberman's comments regarding revoking the citizenship of Arab Israeli residents, made after Trump's Jerusalem announcement.

"An entire nation exists in the shadow of organized incitement against the Palestinians on both sides of the Green Line and we, youngsters from all walks of Israeli life, refuse to believe the incitement and participate in the oppression and occupation led by the government," the teens wrote.

The initiators of the letter received guidance from previous draft refusal writers, among them the signers of the '8200 letter.'

"This is not a trivial step in a Democratic country, but under any government there may be actions that I cannot cooperate with," said 12th grade student Hillel from the northern town of Yodfat who signed the letter.

"Publicizing this letter is much more important than the reactions that I am expected to receive from people who find it hard to hear such a stance," he said regarding the expected backlash.

One of the signees, Matan Helman, of Kibbutz Ogen, is already incarcerated in military prison after declaring his unwillingness to serve (in the IDF).

The signees also turned to other youth and asked them to reconsider their IDF enlistment: "We will refuse to serve in the military out of a commitment to the ideals of peace and with an awareness that we can create another (better) reality in which to live. We call on our fellow youth to ask themselves –is military service in fact working towards this reality?"

In the coming weeks, the group intends to visit various locations throughout Israel in order to enlist other youngsters to their cause.