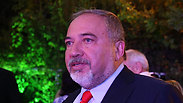 Defense Minister Avigdor Lieberman
Photo: Ohad Zwigenberg
Wadi Ara not part of State of Israel, Lieberman says
Following Saturday's violent protest in northern Israeli Arab region against US recognition of Jerusalem, in which rioters hurled stones at police cars and buses, defense minister urges Israeli citizens to boycott area and make its residents 'feel unwanted here'; they should become part of Ramallah, he adds.
Defense Minister Avigdor Lieberman on Sunday called for a boycott of the Israeli Arab region of Wadi Ara, following Saturday's violent protests in the area, in which rioters hurled at police cars and buses, as well as on Yedioth Ahronoth photographer Gil Nechushtan.

Speaking in an interview to the Ynet Studio, Lieberman said the residents of Wadi Ara were not part of the State of Israel.

"I call on all of Israel's residents to stop buying there," he said. "Simply impose a consumers' boycott and don't go in there—don't enter their restaurants or their businesses, don't get your cars fixed there. The residents of Wadi Ara must understand that they're unwanted and that they're not part of us. They're working from within to harm the State of Israel.

"We've seen terrorists come out of there, we've seen funerals for the terrorists from Umm al-Fahm who murdered police officers at the Temple Mount, and we've seen a terrorist murder people at the terror attack on Tel Aviv's Dizengoff Street, including an Arab taxi driver from Lod. They are not part of us," the defense minister said, reiterating his initiative to hand Wadi Ara over to the Palestinian Authority as part of a future agreement.

"They should become part of Ramallah," he said. "There, they will receive convalescence pay, an unemployment allowance and maternity benefits instead of the billions of shekels they are currently receiving from the National Security Institute. Let (Palestinian President Mahmoud) Abbas pay all their rights and payments the Palestinian democracy and the Palestinian society are certainly much better than the State of Israel."

Calling for a boycott of the area, Lieberman said: "I urge all citizens of the State of Israel to stop entering stores there, to stop buying and to stop receiving services. We should simply impose a boycott on them and let them feel unwanted here. I have never seen a protest in Wadi Ara with a single Israeli flag. I've seen many Hezbollah, Hamas and Palestinian Authority flags there, and I've never seen a single State of Israel flag there."

"Wadi Ara is becoming an incitement center," the minister stated. "On Saturday, a journalist was nearly lynched, and there is wild incitement in the schools. The generation being raised there isn't learning anything apart from hatred toward the State of Israel. The residents of Wadi Ara enjoy the best living conditions in the Middle East."

Lieberman added that the residents had a right to protest, but that "terror, support for terror, solidarity with terror organizations and solidarity with Israel's enemies cannot be part of the rules of the game. That's what we see in Wadi Ara and it's the same line separating between them and others."

The defense minister said he hoped the tensions following US President Donald Trump's recognition of Jerusalem as Israel's capital were over. "On Saturday, I traveled across the Judea area and it was completely calm. According to reports from this morning, everything is calm and quiet. Even the Arab League conference settled for a verbal statement and nothing else. So when I look at the situation in Judea and Samaria today, and on the fence in the Gaza Strip, I believe it's behind us."

As for reports that Saudi Arabia had supported Trump's announcement, Lieberman said earlier in an interview to Army Radio: "The Saudis have personally experienced the meaning of Islamic terror and Iranian subversion, so I think they have a different outlook. We heard the crown prince call (Iranian supreme leader) Ali Khamenei the modern Hitler. Such declarations are not for the love of Israel."

Addressing the tensions on Israel's southern border following the barrage of rockets fired at Gaza vicinity communities from the Strip over the weekend, the defense minister said: "We have hit all of Hamas' critical sites, destroyed a rocket manufacturing facility and a storehouse with strategic Hamas weapons inside the Gaza Strip. I'm certain that everyone can send their children back to school and kindergarten, and I believe all these events are behind us. It's Hamas' responsibility."