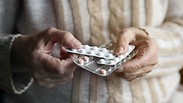 File photo
Photo: Shutterstock
2018 healthcare basket list released
List of government-subsidized medications and medical treatments to benefit over 70,000 Israelis and include life-saving Spinraza drug to treat SMA, as well as NIS 40 million for children's dental reform and drugs for lung and breast cancers and cystic fibrosis and a new innovative diabetes treatment.
The healthcare basket committee submitted on Friday the list of government-subsidized medications and medical treatments for 2018 to Prime Minister Benjamin Netanyahu, who is also serving as the health minister.

Next year's list includes 106 medications and medical treatments at a cost of NIS 460 million, benefitting over 70,000 Israelis.

Among the medications included on the list is the drug Nusinersen (marketed as Spinraza) for 94 Israeli children who suffer from spinal muscular atrophy (SMA), at a cost of NIS 100 million - almost a quarter of this year's budget.

Drugs for lung cancer patients, metastatic breast cancer, cholesterol lowering injections and drugs for cystic fibrosis were also added to the list.

The committee charged with drawing up the list includes representatives of the four health cooperatives, the Health Ministry and the Treasury as well as public advocates; it is headed by the director of Tel Aviv Sourasky Medical Center Prof. Ronni Gamzu and Director of Technology and Infrastructure at the Ministry of Health Dr. Osnat Luxenburg.

The committee's decisions are expected to be approved by the government on Sunday and made available starting January 2018.

The committee reviewed over 700 drugs and medical devices worth over NIS 2.5 billion, while having a budget of only NIS 460 million. Of that, NIS 40 million have already been allocated for the recent children's dental reform led by former minister of health Yakov Litzman.

Although the intense public campaign to include the SMA drug was successful, those hoping for the inclusion of the muscular dystrophy drug Duchenne "Exondys 51" were disappointed to learn the drug did not make it onto the list. Committee members concluded that at present, the studies on the drug were inadequate. The drug's high price tag, NIS 3.3 million per patient, was likely also a factor.
Teaching drug companies a lesson
After the pharmaceutical company that produces Xenbilox raised the price of the drug sixteen-fold, the committee decided not to include it on the list in an effort to teach the company a lesson. Health clinics will still be able to provide the drug at the previously lower cost as part of a special arrangement with the Health Ministry.

Xenbilox is a drug that treats Cerebrotendinous xanthomatosis (CTX), a rare genetic metabolic disorder of cholesterol and bile acid metabolism that results in systemic and neurologic abnormalities.

The 9,200 Israelis suffering from Type-2 diabetes will benefit from the inclusion of the innovative Flash Glucose Monitoring sensor, which is embedded in the skin, at a cost of NIS 56 million spread over three years.

However, after much arguing, the committee decided not to include the drug Vimizim - used to treat Morquio A Syndrome, a birth defect which leaves the inflicted at below average height and with difficulty eating, showering and walking, as well as hurts lung-function. Sixteen Israelis are afflicted with Morquio, but because of the high price tag per patient - NIS 1.7 million a year - the drug was left out of the healthcare basket.

Another drug added to the list is Dupixent, designed for the treatment of allergic diseases such as eczema. The drug is groundbreaking in that it deals with the disease itself and not just the symptoms.

The most expensive drug included is Rydapt, a drug used to treat acute myeloid leukemia, a form of blood cancer, at a cost of NIS 1.4 million per patient, of which there are 15 in Israel.

As in previous years, a large share of the budget is dedicated to oncology. Notably, various lung cancer treatments - including the drugs Tagrisso, Tecentriq, Keytruda and Alecensa, among others - were included on the list alongside Opdivo to treat head and neck cancer, and Ibrance and Kisqali to treat breast cancer.

After a long struggle, the healthcare basket decided to include the drug Orkambi for patients with cystic fibrosis. There are some 45 such patients in Israel and the cost of the drug is NIS 644,000 per patient. Cystic fibrosis is a serious hereditary disease that affects the lungs, pancreas, digestive and reproduction systems.

Controversially, Champix (Varenicline), a drug used to treat nicotine addiction, was not included. Some members of the committee argued it is important to provide treatments for as wide as possible sections of the population and not only cater to niche populations of seriously ill patients.

Others said the treatment will lead to a drop in referrals to smoking cessation workshop. Its high cost of NIS 40 million - benefitting 40,000 people - was what eventually tipped the scale against it.

Also included are Cholesterol lowering drugs for survivors of heart attacks or strokes with LDL cholesterol above 130 and who are at risk for another event, even though they take statins that do not affect them.

Committee chairman Prof. Gamzu said the list includes "medications for diabetes, heart and lung disease, as well as neurological disorders. This is not just about cancer, but rather treatments that affect all age groups. We are sending a message to drug companies that we will not tolerate price gouging."

MK Itzik Shmuli who, together with parents of sick children, led the campaign on behalf of SMA patients, welcomed the including of the life-saving medication in the healthcare basket and said he hopes to continue the battle on behalf of patients that require the muscular dystrophy drug Duchenne.