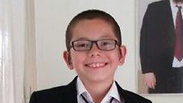 Nine years after his parents were murdered in their Mumbai Chabad House, Moshe Holtzberg (11) will return to India accompanied by Prime Minister Benjamin Netanyahu and Moshe's grandfather Rabbi Shimon Rosenberg.

In the 2008 attack, six people, including Rabbi Gavriel Holtzberg and his wife Rivka—who ran the Mumbai Chabad Jewish outreach center—were killed when four terrorists entered the premises and murdered any Jews they found inside. Their infant son, Moshe, escaped in the arms of his nanny, Sandra Samuel, who is currently living in Israel and remains in contact with Moshe.

During a historic visit to Israel last July, Indian Prime Minister Narendra Modi held a heartfelt meeting with Moshe who said that he missed India and wished to go back. The Indian Premier replied by saying that the country was always open to him and Netanyahu then promised to bring Moshe along during a future visit.

On January 14th Netanyahu will make a state visit to India. Moshe's grandfather Shimon Rosenberg confirmed that they have received the invitation and that "Moshe is very excited to return to (his parents) Habad House.

During the five day visit, Netanyahu and his wife Sara will also visit the Taj Mahal and the birthplace of PM Modi in Gujarat.

The Director General of the Foreign Ministry Yuval Rotem is visiting India this week preparing for Netanyahu's visit.

The innovative water purification vehicle that Netanyahu and Indian PM Modi used to drink from while visiting a Hadera beach will also be joining the Israeli delegation.

Israel was recently disappointed in India's vote at the UN last week against the American recognition of Jerusalem as Israel's capital; despite the fact that India only recently changed for the better its anti-Israel voting pattern at the UN. It is assumed however that India's considerably large Muslim population influenced is what the vote.