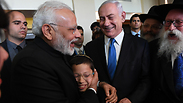 Modi and Netanyahu with Moshe
Photo: Haim Tzach/GPO
Modi visits child of Mumbai terror victims in Israel
During 3-day visit to Israel to cement Indian-Israeli cooperation, PM Modi visits Moshe Holtzberg, who parents were murdered in the 2008 Mumbai Chabad House terror attack; Modi tells Moshe he is always welcome in India while Netanyahu invites him to join him on his trip to the country.
Indian Prime Minister Narendra Modi met Wednesday afternoon with Moshe Holtzberg, whose parents were murdered in the 2008 terror attack on the Chabad House in Mumbai.

During the meeting, which was also attended by Prime Minister Benjamin Netanyahu—who is escorting Modi on his three-day trip to Israel—Moshe said that he missed India. The Indian premier replied by saying that the country was always open to him.

Netanyahu also invited Moshe to accompany him on his future visit to India.

Moshe, now ten years old, was joined by his grandparents who took care of him after he moved to Israel and his Indian nanny Sandra Samuel managed to remove him from the carnage and bloodletting and was granted Israeli citizenship.

In the attack, six people, including Rabbi Gavriel Holtzberg and his wife Rivka—who ran the Jewish outreach center which also offered support to drug victims—were killed when four terrorists entered the premises and began spraying occupants with bullets.

Rivka was five months pregnant when her life was ended. However, the couples' son Moshe, who was 2 years old at the time, survived the attack thanks to Sandra.

Also on Wednesday, Modi and Netanyahu signed seven agreements of cooperation between Israel and India in the fields of technology, water and agriculture.