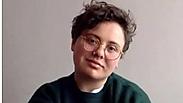 Justine Sachs is not the first Jew to target her own people
To tell you the truth, it doesn't bother me that Lorde isn't coming to sing in Israel. We survived Pharaoh, we'll overcome Lorde too.

It really bothers me, however, that the young singer from New Zealand decided to boycott Israel because of incitement and alleged words of "explanation" from another young woman from the same serene, remote country—Justine Sachs, a Jew who supports a boycott of the Jewish state.

That young woman, who is not very wise to say the least, isn't the first Jew targeting her own people. There were others in the past, and there are some in the present. This self-hatred is very strange, and even insane, but it's a phenomenon we mustn't belittle.

Here are a few examples. In Germany, the BDS movement has Evelyn Hecht-Galinski at its service. She is the daughter of Heinz Galinski, a former president of the Central Council of Jews in Germany and chairman of the Jewish congregation of Berlin, who was one of the greatest and outspoken fighters against any form of anti-Semitism.

Galinski, who I shared a "block" with at Auschwitz and who "got stuck" in Berlin after the war for some reason, would issue a scathing response to any anti-Semitic comment in the German media—and in many cases, he even won the authorities' support. His daughter, on the other hand, is one of the most fanatical slanderers of Israel and is among the top supporters of a boycott against the Jewish state, which her father defended with all his might.

And talking about Germany, we should also mention Moshe Menuhin, the father of renowned violinist Yehudi Menuhin. Here's a Jew who named his son Yehudi ("Jew"), yet kept writing for years for neo-Nazi and anti-Semitic weekly National Zeitung, attacking Israel and the Jews in the most blatant manner. It's hard to believe, but it's a fact. Reacting to one of his father's anti-Israel articles in 1968, Yehudi Menuhin said: "It is a source of great pain to me."

Still in Germany, we have Felicia Langer, a lawyer who defended terrorists in Israeli courts for years. One day, she decided to immigrate to Germany, where she has been incessantly inciting and slandering Israel. She is also active in the boycott movement, of course. Langer, by the way, was awarded the fifth highest of Germany's federal order of merit's eight ranks in 2009. In 2012, she was awarded a "medal of excellence" for her activity from the Palestinian Authority.

I could go on with the list of Jews who hated Jews in different periods of time, but there's no need. It's a phenomenon which is hard to understand, and even harder to accept. But whether we like it or not, it exists. And occasionally, it causes us trouble. It's clear, however, that these lunatics won't succeed in harming the development and future of the country they are attacking—their own people's state.

Oh, yes. I almost forgot to mention that the phenomenon of a Jew attacking Jews has existed since the beginning of the Christian religion. The root of anti-Judaism was Saul of Tarsus (Paul the Apostle).