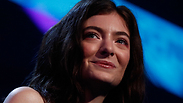 Lorde backs out of Israeli performance
New Zealand singer Lorde caves in to pressure, joins cultural boycott on Israel; 'She doesn't deserve everything she's been through this past week,' show's production company says, referring to widespread criticism levied against 21-year-old singer; ticket purchases will be refunded.
New Zealand songstress Lorde caved in to pressures exerted on her by fans and members of the Boycott, Divestment and Sanctions (BDS) movement and has decided Sunday to cancel her upcoming June performance date in Israel, the show's production company confirmed.

Lorde faced pressures to cancel her date, with two fellow New Zealand women—one an Arab Muslim and one Jewish—appealing to her to avoid performing and participate in the cultural boycott on Israel.

The Naranjah production company, which was to produce Lorde's show, said, "We are regrettably forced to announce Lorde's upcoming June performance in Israel is canceled. Payment for the tickets, for those who have already purchased them, will be refunded within 14 business days."

"She doesn't deserve everything she's been through this past week," the production company added.

The 21-year-old Kiwi crooner responded to the criticism levied against her on Twitter this past Thursday, and said she was "considering all options."

"Noted!" the singer wrote on her Twitter account. "Been speaking to many people about this. Thank you for educating me, I am learning all the time too."

Lorde's announcement came following an open letter addressed to her by two fellow New Zealander women, an Arab named Nadia Abu-Shanab and a Jew named Justine Sachs, in which they asked her to cancel the planned concert.

"Dear Lorde, we're two young women—one Jewish, one Palestinian," the pair wrote. "Today, millions of people stand opposed to the Israeli government's policies of oppression, ethnic cleansing, human rights violations, occupation and apartheid. As part of this struggle, we believe that an economic, intellectual and artistic boycott is an effective way of speaking out against these crimes. This worked very effectively against apartheid in South Africa, and we hope it can work again."

"We can play an important role in challenging injustice today," the open letter further said. "We urge you to act in the spirit of progressive New Zealanders who came before you and continue their legacy."

Lorde—whose real name is Ella Marija Lani Yelich-O'Connor—first made a splash in 2013, when she was only 17, with her debut hit single "Royals." The song became inescapable and won Lorde two Grammies as well as MTV and Brit awards.

"Royals" also helped Lorde become the youngest singer in 30 years to have a number one song on the American Billboard Hot 100 chart, where it stayed on top for nine consecutive weeks.

The crooner's debut album, "Pure Heroine," was critically acclaimed and included such ditties as "Team", "Glory and Gore", "Ribs" and many others. Her second album was released this past June, with such toe-tappers as "Perfect Places", "Green Light" and more.

Lorde was also given the chance to perform the theme song for the hit movie "The Hunger Games: Mockingjay" and is nominated for the 2018 Grammies, in a ceremony taking place January 28.

The young singer has now become yet another name in the long list of artists criticized for performing in Israel, and facing attempts to dissuade them from doing so.

Perhaps the most prominent member of the list is rock band Radiohead, who publically corresponded with Roger Waters and other members of the BDS movement last summer before going forward with their performance this past July in Tel Aviv's Yarkon Park.

Among the artists who have also decided to cancel their shows in Israel are Elvis Costello and Sonic Youth frontman Thurston Moore.