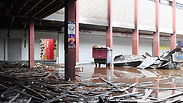 Back of the kosher market in the suburb of Creteil
Photo: AFP
A fire broke out Tuesday at a kosher market south of Paris that was vandalized with anti-Semitic graffiti last week, French officials said.

No one was reported injured but the fire damaged much of the Promo & Stock store.

Authorities believe the fire in the suburb of Creteil was a criminal act because the store's protective shutters had been forced open, Antoine Besme of the regional prosecutor's office told The Associated Press.

He said a preliminary investigation was opened and authorities were checking to see if the fire is linked to last week's vandalism.

Albert Elharrar, president of the Creteil Jewish community, told the AP the manager of the shop is Muslim.

"That shows the spirit of the city of Creteil where the Jewish community lives," he said.

The fire also raised concerns because it broke out three years after a deadly Islamic extremist attack on a kosher market in Paris.

On January 9, 2015, Islamic extremist Amedy Coulibaly killed four people during a hostage-taking at a kosher supermarket in Paris. That took place one day after he killed a policewoman in a southern suburb of the capital and two days after his associates, brothers Cherif and Said Kouachi, killed 11 people at a newspaper office in Paris and a policeman on a nearby street.