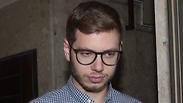 Yair Netanyahu
Photo: Motti Kimchi
The owner of the nightclub where the prime minister's son Yair Netanyahu was recorded talking to friends about his father's natural gas policies and making offensive remarks about women told Channel 2 News on Tuesday that the younger Netanyahu was a regular at the strip club.

"He would arrive with his security detail, and they were let in through the backdoor… He did not pay the entrance fee, only for the alcohol," said the proprietor.

The recording, allegedly made by Netanyahu's driver, has caused the Netanyahu family considerable embarrassment. Yair Netanyahu can be heard talking to his friends Ori Maimon (the son of an Israeli tycoon) and Roman Avramov, while visiting a strip club with his security guard and driver in tow.

Yair has since apologized for his "drunken nonsense," saying it doesn't represent who he is and dismissing any claim that what he said regarding the natural gas regulation agreement was anything more than banter.

His father, Prime Minister Benjamin Netanyahu, also addressed the incident: "My son Yair rightly referred to his comments as 'nonsense.' He did it under the influence of alcohol, and he apologized for it," Netanyahu said at a lunch with NATO ambassadors.

"He said these are not the values on which he was raised at home. My wife and I taught our children to respect any man and any woman. This is why I vehemently oppose the exclusion of women and act in many ways to empower women," the prime minister continued. "These are the values we believe in, and these are the values all Israeli children should be taught."

The incident has managed to cause a minor diplomatic incident as Yair mentions "Japanese girls" in the recording. During their drive, Yair received a call from his mother Sara Netanyahu. Yair can be heard saying "it's my mom, what an embarrassment for my mom to call now…" Shaking off the embarrassment, he tells his friends: "invite the Japanese girls, bro, come on."

The mention of "Japanese girls" raised some eyebrows at the Japanese embassy in Israel. They looked into whether Yair was referring to Japanese strippers or perhaps the term was a cover story that Yair used when talking to his mother.

The Japanese called several sources in Israel to determine whether any of them knew who the young Netanyahu was referring to.

Yair Netanyahu is scheduled to join his father on a state visit to India on Sunday. If he does indeed travel, it would be his first public appearance since the scandal and is bound to attract a lot of media attention as the story was covered by many world media outlets. Yair appears on the delegation's list and has received an Indian visa. The Prime Minister's Office declined to comment on whether Yair will indeed join the delegation.