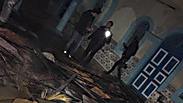 Damage caused to the synagogue
Tunisian authorities have arrested four men on suspicion of throwing Molotov cocktails at a synagogue on the island of Djerba three days ago, causing light damage to the structure.

The Tunisian Interior Ministry said the suspects were not religiously motivated, but rather trying to "create chaos" amid the anti-government protests in the country.

Two Molotov cocktails were hurled at a small synagogue in Djerba late Tuesday, setting fire to the building.

The Molotov cocktails were thrown from the roof into the yard of the synagogue, which is located in al-Hara al-Kabira ("the Big Quarter"). The firebombs hit palm tree leaves—apparently leftovers from Sukkot—which caught on fire.

A reporter at the scene told the AP the synagogue was empty and the fire was quickly extinguished.

Some damage was caused to the structure but no one was hurt, the head of the local Jewish community, Perez Trabelsi, told Reuters on Wednesday.

While the violent protests over price hikes that engulfed Tunisia did not reach Djerba, locals said the assailants had exploited the fact that there was a reduced security presence as police were busy combating anti-government protests elsewhere in the North African state.

Mainly Muslim Tunisia has a Jewish minority of fewer than 1,100 people, many of them (300-500) in Djerba. Jews have lived in Tunisia for over 2,000 years and Djerba is home to Africa's oldest synagogue, El Ghriba, which was hit by al Qaeda-linked militants in 2002 in a truck bomb attack that killed 21 people including Western tourists.

AP, Reuters and Itamar Eichner contributed to this story.