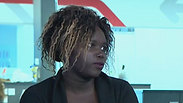 Former Sudanese refugee Kerba
Sudanese refugee: 'I have no home, not even Israel'
Refugee deported from Israel as child who returned to study at Herzliya IDC says 'if Israeli public got to know Sudanese, Eritrean population, we'd be able to move forward'; MK Rozin: 'Refugees should be allowed to stay despite south Tel Aviv residents' concerns.'
More than 400 people will be attending Wednesday a special Knesset conference regarding refugees and asylum seekers, their status and the means of keeping them in Israel. Naka Kerba, a Sudanese national who was deported from Israel and came back as an international student, said in a Ynet studio interview, "If Israel's populace was exposed to what the Sudanese and Eritreans went through, we'd be able to move forward."

Kerba also shared her experiences returning to her home country. "I didn't really have a home to go back to," she said. "Things are not stable there and you can't start a basic, normal life there as you can here or anywhere else, for that matter. Especially since you never know what's around the corner."

The Sudanese woman is currently an international student at the Interdisciplinary Center (IDC) in Herzliya, but clarified, "After what happened to me (here), I no longer consider Israel home. I have no home, not even here."

The people supporting expelling refugees, Kerba claimed, made up their minds without really knowing the facts. "You have to examine whether (the immigrants) are really refugees, check out other possibilities or other things to do rather than just dump them somewhere. They're human too, you mustn't forget that," she appealed.

Kerba blamed the Israeli government for the discrepancy between the Sudanese and Eritrean populations in Israel and the manner in which they are perceived by the public. "I think Israelis don't really know the Darfurian and Eritrean populations. Maybe if they met more of them, saw their daily lives, where and how they lived—maybe that would help Israelis see the truth and for us to move forward," she said.

MK Michal Rozin (Meretz), one of the conference's organizers, said in the same interview that, "Between 80 and 90 percent of Eritrean and Sudanese refugees are recognized as refugees the world over, and remain in their host countries until they can return to their own. Only Israel refuses to recognize them as refugees."

"They seem to have decided a priori that anyone coming in from Eritrea was not a refugee. What does it matter if the country is ruled by a dictator? What does it matter if the entire Western world—Europe, the United States and Canada—and all other countries recognize them as refugees? We don't, because we have some sort of relationship with the Eritrean government, with the president," she added.

Rozin also said she sympathized with the concerns of the Israeli residents of south Tel Aviv, but remarked that the refugees should still be allowed to stay. "I put forward many solutions to try and disperse the (refugee) populace, so they don't remain solely in south Tel Aviv and perpetuate the very difficult situation there. Unfortunately, not only did the government ignore my suggestions, they also canceled the Knesset committee on the matter and took the item completely off the agenda," the MK accused.

MK Oren Hazan (Likud) offered a counter to Rozin's harsh statements. "What's unfortunate is piggybacking off of the people of south Tel Aviv and many other Israelis who have been hurt by this thing. It's time to expel, in an instant, all of them. Get them on a plane with a one-way ticket to a third, fourth country or their home," he declared.

"Stop being merciful and compassionate. We have to stand our ground, because when it comes down to it, this will just blow up in our faces," Hazan added.