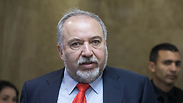 Defense Minister Avigdor Lieberman
Photo: Hadas Parush/Flash90
Lieberman bans Sephardic chief rabbi from IDF events
Defense minister instructed army not to invite Chief Rabbi Yitzhak Yosef to events over his support of Safed Rabbi Shmuel Eliyahu, who called on the army chief to resign, and Rabbi Shlomo Aviner, who spoke against enlisting in IDF over women's service; Safed mayor comes out against Rabbi Eliyahu, who threatens to sue Lieberman if order not recanted.
Defense Minister Avigdor Lieberman has instructed not to invite Sephardic Chief Rabbi Yitzhak Yosef to IDF events and ceremonies over his support of comments against the army made by religious-Zionist Rabbi Shlomo Aviner and Rabbi Shmuel Eliyahu, he said Saturday.

Eliyahu and Aviner have been banned from army events as well until they take back their comments, the defense minister added.

Rabbin Aviner instructed religious-Zionist men not to enlist in the IDF if they're placed in a unit that includes women, while Rabbi Eliyahu called for the dismissal of IDF Chief of Staff Gadi Eisenkot over what he calls a crisis in the army concerning the integration of women in more roles.

Rabbi Eliyahu retorted to Lieberman's ban Saturday night, saying, "Lieberman is willfully inciting and lying. The IDF is not Avigdor Lieberman's private company. If he does not apologize and cancels his instruction, he will face legal actions for his lies."

"Rabbis encourage their students to join the more elite units," Rabbi Eliyahu added. "They were merely calling on them to not take part in co-ed field units where the military bar is lowered to promote political agendas. Only backwards regimes do not allow criticism of the military. This is Israel."

Earlier Saturday, Lieberman said, "I've instructed the army that not Israel's chief rabbi (Yosef), Rabbi Aviner or Rabbi Eliyahu can take part in any event in the IDF," Lieberman said during a visit to Ashdod to support businesses open on Shabbat. "It's unreasonable to attack the IDF, to speak against service, and then still participate in military events."

"Women have always been an integral part of the Jewish people's security, from Deborah the prophetess, to Sarah (Aaronsohn) of Nili (spy organization) and Hannah Szenes," Lieberman stressed.

"This radicalization now is completely unreasonable, it has no place. Both the Chief Rabbi of Israel and the Rabbi of Safed, who are state employees, must represent the state's positions and not go against them," he added.

During his visit to the Big shopping center in Ashdod, Lieberman also came out against new legislation that allows the interior minister to close stores on Saturday, the Jewish day of rest.

"Those who say the Supermarkets Law has no meaning are mistaken and misleading. The Supermarkets Law unfortunately has far-reaching consequences, as we're seeing in Ashdod. Until recently, there was harmony in Ashdod, and now the city is divided. I hope it doesn't happen in other cities," the defense minister said.

"This division undermines our national resilience. This entire thing is creating unnecessary tension and friction. The last thing we want is to see a divided Israeli society. I hope both the heads of the religious-Zionist public, and those of the Haredi public, will calm down," he added.
Safed comes out against its chief rabbi
Earlier this week, the mayor of Safed sent a letter to IDF Chief Eisenkot distancing his city from the positions of Rabbi Eliyahu, who serves as Safed's chief rabbi.

In his letter, Mayor Ilan Shohat stressed that not only do Eliyahu's comments not represent the views of the people of Safed, they stand in complete contradiction to reality in the city, where many women enlist in the IDF.

"Had the rabbi known the kind of strategic and intelligence roles the city's women fulfill, and what is their contribution to the security and strength of the state, he may have changed his mind," Shohat said on Thursday.

Safed, he said, is second in the country in the number of women serving as officers in the IDF, with over 11 percent going to officers' course.

Shohat went on to point out that "hundreds of Safed's women prefer to do full military service to national service, because in the army they can have a religious, traditional lifestyle to a greater degree than they can in national service."

The mayor invited the IDF chief to meet with students in the city as part of a plan to encourage the city's youth to serve in significant roles in the army.

"We wish you continued blessings and success, for the future of the State of Israel," Shohat concluded his letter, a copy of which was also sent to Defense Minister Lieberman.

Shohat's letter received backing from Capt. (res.) S., a Safed woman who served as an officer in the Military Intelligence Directorate for seven years and continues doing reserves duty to this day.

She was angered by Rabbi Eliyahu's comments, saying, "His words are unacceptable to me. He has a lot of influence, and he abuses his position. The city rabbi cannot disparage women and put them down. I served with both religious men and women, and there was no problem with this, there has never been a difference between a man and a woman."

She said she was taught at school in the city that "you can get anywhere if you want to. It's not your gender that counts, but your level of ambition that is going to lead to success in life."

"The rabbi's comments are disgraceful, miserable and do not reflect the values of the city, which is characterized by mutual respect between the different populations living in it," she added. "I allow myself to speak for all women. They can all reach key positions, and no one will stop them."