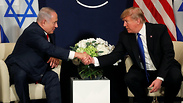 Netenyahu with Trump
Photo: Reuters
Trump: Palestinians must return to talks to receive aid
In a meeting in Davos, Switzerland, US President Trump assures PM Netanyahu that the US will continue to withhold financial aid to the Palestinians until they return to peace negotiations with Israel; Palestinians slam Trump, say US disqualified itself from any mediatory role in the peace process.
President Donald Trump threatened Thursday to withhold aid money from the Palestinians until they return to peace talks with Israel as he sat down with Israeli Prime Minister Benjamin Netanyahu on the sidelines of an economic summit in Switzerland.

Trump's decision last year to recognize Jerusalem as Israel's capital roiled Arab nations and led the Palestinians to refuse to meet with Vice President Mike Pence during his visit to the Mideast this week. They also declared a new US-led peace push dead, saying Washington can no longer be trusted as an honest broker.




Trump said that decision has consequences. The US, he said, gives "hundreds of millions of dollars" to the Palestinians, and "that money is on the table and that money's not going to them unless they sit down and negotiate peace."

Trump also asserted said that his declaration of Jerusalem as Israel's capital took it off the negotiating table "and Israel will pay for that", adding "they'll do something that will be a very good thing" without elaborating.

A spokesman for Palestinian President Mahmoud Abbas said the United States had taken itself "off the table" as a peace mediator since it recognized Jerusalem as Israel's capital.

"Palestinian rights are not up to any bargain and Jerusalem is not for sale. The United States can't have any role unless it retreats its decision to recognize Jerusalem as Israel's capital," spokesman Nabil Abu Rudeineh told Reuters by phone from Jordan.

Rudeineh also called Trump's "language of dictation unacceptable," and stated that the Palestinians are "ready to engage in negotiations" and committed to a peace process "based on a Palestinian state with east Jerusalem as capital."

Abbas has called Trump's Jerusalem declaration a "slap in the face" and has rejected Washington as an honest broker in any future talks with Israel. Abbas left for an overseas visit before Pence arrived.

PLO Secretary-General Saeb Erekat said that "Trump's statement in Davos only confirms that the US is disqualified to play any role in achieving peace."

"Trump's remarks on Jerusalem should serve as a wake-up call for Arab leaders and decision makers—as well as for the rest of the world," he added, reiterating Abbas' assertions: "Jerusalem is not off the negotiating table—it is the United States that is off the international consensus, and whoever says that Jerusalem is off the table actually says that peace is off the table."

PLO Executive Committee member Hanan Ashrawi said that the Palestinian Authority's snub of VP Pence was not done in disdain, but out of an attempt to preserve their dignity.

"The refusal to meet with the party that oppresses you is not an expression of disdain but of maintaining of our self-respect," she said.

US Ambassador to the United Nations Nikki Haley told the UN Security Council on Thursday that, although the US "remains deeply committed to helping the Israelis and Palestinians reach a historic peace agreement," it will not "chase after a Palestinian leadership that lacks what is needed to achieve peace."

Haley criticized a Jan. 14 speech by Abbas at a meeting of the Palestinian Central Council, where he called Israel "a colonial project that has nothing to do with Jews" and said he would only accept a broad, internationally-backed panel to broker any peace talks with Israel.

"A speech that indulges in outrageous and discredited conspiracy theories is not the speech of a person with the courage and the will to seek peace," Haley said.

Palestinian UN envoy Riyad Mansour, who addressed the Security Council before Haley, described similar Israeli accusations that Abbas was "not a man of peace" as "appalling."

"They are again attempting to distract the international community and evade responsibility for the political deadlock and deplorable situation on the ground by making such false, shameful claims," he said.

Trump, Netanyahu speak in Davos

Trump's comment came shortly after he arrived at an economic forum that brings together world leaders, business executives and celebrities. His appearance is aimed at luring foreign investment to the US and highlighting his "America first" economic agenda, despite its seeming odds with a forum that celebrates global cooperation and free trade.

It wasn't immediately clear what money Trump was referring to in his threat. Washington has contributed over $5 billion in economic and security aid to the Palestinians since the mid-1990s. Annual economic aid since 2008 has averaged around $400 million, much of it devoted to development projects.

Last week, the Trump administration moved to withhold some—but not all—of a scheduled aid payment to the United Nations agency that assists Palestinian refugees. The Trump administration said it would provide $60 million, while keeping $65 million until the UN body undertakes a "fundamental re-examination."

Israel has been overjoyed by Trump's pivot on Jerusalem, which Netanyahu hailed Thursday as an "historic decision that will be forever etched in the hearts of our people."

On a visit to Israel this week, Vice President Mike Pence told Israeli lawmakers that the US was fast-tracking the embassy plans, aiming to move it from Tel Aviv to Jerusalem by the end of 2019. Trump said he anticipates having "a small version" of the embassy open sometime next year.

During his remarks, Trump referenced Pence's trip to the Middle East, which did not include a meeting with Palestinian leaders. Trump said, "they disrespected us a week ago by not allowing our great vice president to see them," adding: "Respect has to be shown to the US or we're just not going any further."

Trump arrived in Zurich ahead of schedule and immediately boarded a US helicopter for the flight to Davos, where the World Economic Forum is being held. The approximately 40-minute trip took Trump over a snowy countryside dotted with houses, frosted mountains and a glistening lake. As Trump got off the helicopter in Davos, he gestured to aides who held him by the arms as he walked across the snowy landing zone to his waiting car.

"We're very happy to be here," Trump said as he arrived. "The United States is doing very well, and will continue to do well and this will be a very exciting two days."

He said he was bringing a message of "peace and prosperity" to the gathering.

While the president is expected to declare that the United States is open for business, the protectionist-leaning president's attendance at the annual gathering for free-trade-loving political and business elites has raised eyebrows. His decision to sign new tariffs boosting American manufacturers this week has prompted fresh concerns about his nationalist tendencies.

"I'm going to Davos right now to get people to invest in the United States," Trump said Wednesday before the overnight flight to Europe. "I'm going to say: 'Come into the United States. You have plenty of money.' But I don't think I have to go, because they're coming, they're coming at a very fast clip."

Trump also seemed eager to dispel concerns about his global leadership.

During an earlier meeting with British Prime Minister Theresa May, Trump insisted their relationship isn't strained and that the US and UK "are very much joined at the hip."

"We're on the same wavelength in I think every respect," Trump said, insisting the two leaders have a "really great relationship, although some people don't necessarily believe that."

"We are very much joined at the hip when it comes to the military. We have the same ideas, the same ideals, and there's nothing that would happen to you that we won't be there to fight for you," he told May. "You know that."

Trump hosted May at the White House days after he took office. But he recently canceled a planned trip to London to celebrate the opening of the new US embassy. And last year, Trump and May traded criticism over his retweets of a far-right group's anti-Muslim videos.

Britain is eager to strike a free trade deal with the US after it leaves the EU in 2019. US Treasury Secretary Steven Mnuchin said Thursday that US is ready to negotiate an "attractive" trade deal with Britain once the country has left the European Union.

Trump's "America First" agenda and aversion to multilateral trade agreements would seem at odds with a global summit that stresses free trade and international cooperation.

But US Treasury Secretary Steven Mnuchin, who is leading the largest US delegation ever to attend the exclusive gathering, said Wednesday that "America First' does mean working with the rest of the world."

"It just means that President Trump is looking out for American workers and American interests, no different than he expects other leaders would look out for their own," he said.

The president is set to address the forum Friday. He is expected to showcase the booming US economy and measures like his recent tax overhaul, claiming that a thriving America benefits the world. A vocal critic of trade deals he sees as unfair to the United States, Trump will also stress the need for what he sees as fair competition.

During his two-day stop, the president will also attend a reception in his honor, host European executives for dinner and meet with world leaders, including Swiss President Alain Berset and Rwandan President Paul Kagame.

In the lead-up to Trump's arrival, other leaders at the meeting have argued against any drift toward protectionism in the global economy. Indian Prime Minister Narendra Modi said new barriers to trade could pose a danger on a par with climate change and extremist attacks. And Canada's Justin Trudeau revealed that his country and the 10 remaining members of the Trans-Pacific Partnership have revised their trade deal following the US withdrawal.

This year's forum theme is "Creating a Shared Future in a Fractured World." Panel topics include "The Global Impact of America First," ''A Society Divided," ''Post-Establishment Politics?" and "The Weaponization of Culture."