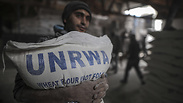 US to provide $60 million in Palestinian aid, withhold $65 million
Trump making good on his Twitter vow to cut funding to Palestinians who 'don't appreciate us'; US biggest source of funds for UNRWA, the UN agency tasked specifically with Palestinian refugees; UN Ambassador Danon: 'End the absurdity of UNRWA.'
The United States will give United Nations Relief and Works Agency (UNRWA), the UN agency for Palestinian refugees, $60 million in aid but will withhold a further $65 million "for future consideration," a US official said on Tuesday.

In keeping back some of the aid, Washington appeared to carry out a threat made by President Donald Trump in a Twitter post on January 2 in which he said, "It's not only Pakistan that we pay billions of dollars to for nothing, but also many other countries, and others.

"As an example, we pay the Palestinians HUNDRED OF MILLIONS OF DOLLARS a year and get no appreciation or respect. They don't even want to negotiate a long overdue peace treaty with Israel. We have taken Jerusalem, the toughest part of the negotiation, off the table, but Israel, for that, would have had to pay more. But with the Palestinians no longer willing to talk peace, why should we make any of these massive future payments to them?"

The US official, who spoke on condition of anonymity, said UNRWA needed to be fundamentally reevaluated "in the way it operates and the way it is funded."

While the official did not link the US decision to Trump's tweet, he made a point often advanced by the US president by saying the United States had been UNRWA's single largest donor for decades and calling on other nations to do more.

United Nations Secretary-General Antonio Guterres said he was unaware of any cut in aid but he was "very concerned" about the possibility because it "is an important factor of stability."

UNRWA Commissioner-General Pierre Krähenbühl said in a statement that the reduced US contribution "threatens one of the most successful and innovative human development endeavors in the Middle East."

In 2016, the USA gave $368,429,712 to UNRWA. "It is time other countries, some of them quite wealthy, step in and do their part to advance regional security and stability," the official said.

Previously, Trump's recognition of Jerusaelm as Israel's capital prompted the Palestinians to freeze ties with the Trump administration, and Abbas is expected to shun Vice President Mike Pence when he visits the region next week.

On Sunday night, Abbas slammed the US ambassadors to Israel and the United Nations, David Friedman and Nikki Haley, calling them a "disgrace."

Both Trump appointees have been strong supporters of Israel, with Friedman having backed Jewish settlements in the West Bank.

An indignant Abbas also said that Trump had accused them of refusing to engage in peace negotiations.

"May your house come to ruin. When did we refuse?" he said, using a common Arabic curse.

He also said the Oslo accords that led to the creation of his Palestinian Authority and envisioned a final resolution to the conflict were in effect finished.

"I am saying that Oslo, there is no Oslo. Israel ended Oslo," Abbas said.

In response to Abbas's comments, the European Union said its position on the conflict remains "based on the Oslo accords."

"This decision confirms the U.S administration is continuing in wiping out the rights of the Palestinian people," Palestine Liberation Organization official Wasel Abu Youssef told Reuters. "First was declaring Jerusalem as the capital of Israel and today the refugee issue," he said.

At the United Nations, Secretary Guterres told reporters that the services provided by UNRWA were "of extreme importance, not only for the wellbeing of these populations ... but also in my opinion and an opinion that is shared by most international observers, including some Israeli ones, it is an important factor of stability."

"So if UNRWA will not be in a position to provide the vital services and the emergency forms of support that UNRWA has been providing this will create a very, very serious problem and we will do everything we can to avoid this situation," he said.

Israeli Ambassador to the UN Danny Danon commented on the American decision saying: "It is time to end the absurdity of UNRWA. It has been exposed as an organization that takes advantage of funds by the international community for anti-Israel propaganda, eternalizing the Palestinian refugee's status and spreading hate.

"It was revealed this last year that senior members of the organization were selected to lead Hamas in Gaza. UNRWA schools deny the existence of Israel and terror tunnels were discovered below the organization's institutions… It is time that the humanitarian assistance funds are directed strictly towards that cause," said Danon.