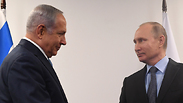 PM Netanyahu (L) and President Putin
Photo: Kobi Gideon/GPO
Netanyahu to Putin: 'We must take strong, timely stand against murderous ideologies'
During visit to Russia, the Israeli PM meets Russian president at Moscow's Jewish Museum and Tolerance Center to discuss continued Iranian entrenchment in the Middle East; Defense Minister Lieberman: 'No interest in Third Lebanon War, but determined to stop Lebanon from becoming Iranian missile factory.'
Prime Minister Benjamin Netanyahu met with Russian President Vladimir Putin in Moscow on Monday and tied the fight against Iran's nuclear ambitions and terror support to the fight against Nazi Germany in World War II.

"I think that the main lesson of the rise of the Nazis and—afterwards—their defeat, is that one needs to take a strong and timely stand against murderous ideologies," Netanyahu told Putin during a meeting at the Jewish Museum and Tolerance Center in Moscow.

The two leaders toured an exhibit at the museum marking the 75th anniversary of the rebellion in the Sobibór death camp.




"This is also our mission today, and it is to this end that I want to speak with you about our common efforts to promote security and stability in our region, and—of course—the cooperation between Russia and Israel," Netanyahu added.

"Our talks, which we hold periodically, in my view, greatly contribute to achieving these goals, and I am certain that they will do so now as well," the Israeli premier opined.

At the beginning of their meeting, Netanyahu told the Russian president, "I very much appreciate this invitation and your personal appearance in this place, which reflects our common struggle against the greatest evil that humanity has known, and the awful price paid by my people, the Jewish people, and the Russian people and the great sacrifice of 20 million Russians alongside our 6 million, and the heroism of the Red Army in achieving victory over the Nazis."
Lieberman: 'No interest in Third Lebanon War'
Yisrael Beytenu Chairman Avigdor Lieberman also warned Monday against the Iranian threat, which Netanyahu was alluding to, on the heels of IDF Spokesman Ronen Manelis's op-ed in Lebanese media warning Lebanese citizens to open their eyes to their country becoming "one big missiles factory."

"I can say that for our part, we are determined to prevent Iran from entrenching itself in Syria," Lieberman said during a faction meeting at the Knesset. "We're familiar with missile production and conversion sites in Lebanon, and familiar with the personas manufacturing said missiles. We are naturally also determined to wipe out all terror tunnels from Gaza to Israel."

"As it relates to Lebanon," the defense minister added, "we're utilizing every political—and other—leverage at our disposal in order to stymie missile production, and the last thing I want to do is enter a third Lebanon war. I still think we have enough means and possibilities at our disposal, and we're taking advantage of them."

"I can once again stress that we're determined to stop Lebanon from becoming one big precision missiles factory," Lieberman concluded.

Education Minister Naftali Bennett, meanwhile, said during a meeting of his Bayit Yehudi party that "if Hezbollah and Iran continue erecting missiles bases on Lebanese soil, they will bring ruin to Lebanon and its people."

"As far as Israel is concerned," he continued, "Hezbollah equals Lebanon, and so the people living in southern Lebanon with rocket launchers and rockets in their homes should realize this time it won't be over. There, we said it," he added ominously.