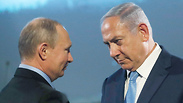 PM Netanyahu and President Putin
Photo: EPA
Netanyahu warns Putin: 'We'll act in Lebanon if necessary'
Relaying to journalists the content of his latest tête-à-tête with Russia's President Putin, Netanyahu says he emphasized the gravity of precision missiles reaching Lebanon, vowed IDF would act to prevent such an eventuality; PM says he also told Putin Israel would act to prevent Iranian military entrenchment in Syria, but acknowledged Israel 'is already operating.'
Israel will act to prevent the transfer of precision missiles to Lebanese soil if forced to, Prime Minister Benjamin Netanyahu said Monday, following a meeting earlier with Russian President Vladimir Putin in Moscow.

"I just finished in-depth and good talks with Russian President Vladimir Putin. I told him that Israel views two developments with utmost gravity: First is Iran's efforts to establish a military presence in Syria and second is Iran's attempt to manufacture—in Lebanon—precision weapons against the State of Israel," he told journalists at the conclusion of the meeting, the first since their last tête-à-tête in August 2017.

"I made it clear to him that we will not agree to either one of these developments and will act according to need," Netanyahu added.

On the subject of Iranian ambitions to entrench its military forces in Syria, Netanayhu told Putin he would take action if such a reality ever materialized.

"We are now on the cusp of a watershed moment of whether Iran will entrench itself there or if the process will be stopped. I told Putin that if it isn't stopped by itself, we will act to stop it. In practice, we're already operating," he told the journalists.

Netanyahu also addressed reports that Damascus had threatened to attack Israel's Ben Gurion International Airport if Israel carried out another military strike in Syria.

"We always take all the elements and considerations in the area into account," he said, before accusing Iran of attempting to rattle stability in the Middle East.

"The element currently trying to change the status quo in Syria and Lebanon is one—Iran. This is an element that is actively trying to shift the arena and turn Syria into a military colony," he asserted.

Another major topic discussed at the meeting with Putin was, Netanyahu said, the Iranian nuclear agreement. The prime minister raised before Putin Israel's reservations, "which in many cases are reservations I have heard from Trump. I cannot guarantee what Russia's stance will be on the matter, but they understood what will happen if corrections are not inserted (into the deal.)"

During their earlier discussions, Netanyahu told Putin that the fight against Iran's nuclear ambitions and terror support were akin to the fight against Nazi Germany in World War II.

"I think that the main lesson of the rise of the Nazis and—afterwards—their defeat, is that one needs to take a strong and timely stand against murderous ideologies," Netanyahu told Putin during a meeting at the Jewish Museum and Tolerance Center in Moscow.

"This is also our mission today, and it is to this end that I want to speak with you about our common efforts to promote security and stability in our region, and—of course—the cooperation between Russia and Israel," Netanyahu added.