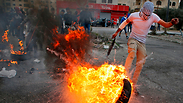 Archive photo of violent protests in Ramallah
Photo: AFP
A Palestinian teenager was killed by IDF fire Tuesday evening during clashes that erupted in a village north-east of Ramallah, according to the Palestinian Health Ministry.

The 16-year-old Palestinian, identified the teen as Laith Abu Naim by the Palestinian Health Ministry, who said he was killed by a shot to the head, was reportedly evacuated to hospital and later succumbed to his wounds.


The IDF issued a statement Tuesday evening denying that live rounds had been used, but said that that soldiers opened fire using rubber bullets after dozens of Palestinians began throwing rocks and rolling burning tires in the village Mughayer. The military also launched an investigation into the incident.

Earlier Tuesday, Palestinians protesting against US President Donald Trump's policy on Jerusalem halted a US-coordinated Palestinian marketing workshop in the West Bank, damaging an American diplomatic vehicle as it sped away.

Protesters threw tomatoes at the sports utility vehicle, which had US consular licence plates, kicked one of its doors and ripped the plastic casing off a side mirror as it drove off under Palestinian police escort from the Bethlehem Chamber of Commerce.

Footage from protest against Trump administration in Bethlehem (צילום: רויטרס)

Commenting on the incident, a State Department spokesperson said: "The United States opposes the use of violence and intimidation to express political views. This non-political program was one part of long-term US engagement to create economic opportunities for Palestinians."

Trump's December 6 announcement recognizing Jerusalem as Israel's capital drew universal condemnation from Arab leaders, stirred Palestinian street protests and drew widespread international criticism.

The Associated Press contributed to this report.