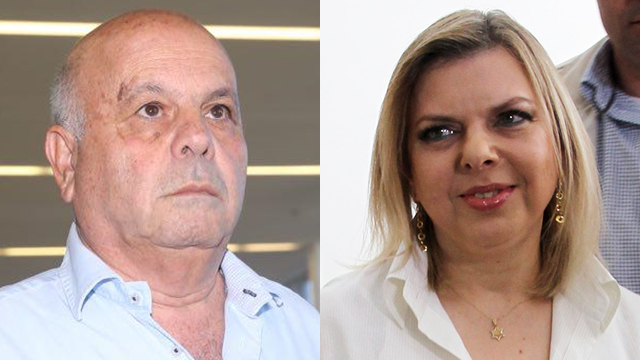 Saidoff (L) Sara Netanyahu
Photo: Gil Nechushtan, Moti Kimchi
Former PM staffer blames his misconduct on Mrs. Netanyahu
Former senior staffer at PM's Office Ezra Saidoff, who is suspected of colluding with Sara Netanyahu to forge invoices to order expensive meals from restaurants and private chefs using state funds, insists she instructed him to carry out illicit tasks.
Former Deputy Director-General of the Prime Minister's Office Ezra Saidoff is attributing responsibility to the prime minister's, wife Sara Netanyahu, for some of the charges he is facing involving alleged forgery of receipts and misuse of public funds.

Channel 10 reported Tuesday evening that at a hearing, ahead of an indictment being served, Saidoff said, via his attorney: "I was instructed by Sara to order chefs, how can one say no to Sara Netanyahu?"

Saidoff added that an electrician who was called to the Netanyahu residence on Shabbat—a day on which most forms of work and services are not supposed to be performed—was ordered to perform work, not through him, but via Mrs Netanyhau's secretary, at her request.

After the State Attorney stated that Saidoff, was the "gatekeeper", he responded that he could not accept responsibility for (the actions of) Sara Netanyahu.

Attorney General Avichai Mandelblit has made clear that he intends to proceed with an indictment against Sara Netanyahu for ordering private meals worth tens of thousands of shekels a month from high-end restaurants and private chefs with the state footing the bill.

Netanyahu and Saidoff allegedly colluded in forging documentation stating that the residence did not have a cook and they therefore needed to obtain food from restaurants and special chefs.

The investigation also alleges that invoices were forged so that the cost of meals was divided among a larger amount of portions in order to bypass the allocated allowance. While Saidoff is to face charges on this matter, there is insufficient evidence to charge Sara Netanyahu as well.

According to the attorney general, during the period from September, 2010 until March, 2013, Saidoff and Sara Netanyahu colluded to bypass the regulation stating that in a case where the official residence was lacking a cook, food could be ordered to the residence as and when necessary.

The two sought to obtain state funds for the employment of cooks at the residence as well as ordering take-outs from restaurants and employing private chefs. In this manner, they succeeded in unlawfully obtaining hundreds of meals costing taxpayers NIS 359,000.

The investigation uncovered that in at least 15 cases, when private chefs were brought to the residence to cook for the Netanyahu family and its guests, invoices were forged so as to state a larger number of diners than there actually were.

Saidoff is suspected of instructing the chefs, the housekeepers and secretaries of Mrs. Netanyahu to forge the invoices for the meals. He then signed and submitted them to the government accountant.