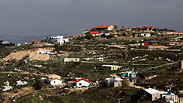 Havat Gilad
Photo: Reuters
Government unanimously approves recognition of Havat Gilad
Approval is only the first step in process to legalize the unauthorized outpost, where Rabbi Raziel Shevah was murdered in a terror attack; 'Whoever thinks the reprehensible murder of a resident of Havat Gilad can break our spirit and weaken us, is making a bitter mistake,' Netanyahu says.
The government unanimously approved Sunday the retroactive recognition of the unauthorized outpost Havat Gilad following the deadly drive-by shooting that claimed the life of Rabbi Raziel Shevah three weeks ago.

"'Whoever thinks the reprehensible murder of a resident of Havat Gilad, a father of six, can break our spirit and weaken us, is making a bitter mistake," Prime Minister Benjamin Netanyahu said at the outset of the weekly cabinet meeting.

He said he spoke to Rabbi Shevah's widow, Yael, shortly before the meeting. "I told her that the entire nation and all members of cabinet embrace her and the children in their time of grief; I also asked her to hug the children for us," he said.




"I told her our policy is being carried out in two spheres. First, exacting justice. Yesterday, our forces were again in action in an effort to apprehend the last of the assassins and their accomplices in the murder of Rabbi Shevah. We will not rest until we bring them to justice. And we will bring them all to justice," Netanyahu vowed. "Our second policy guideline is to strengthen the settlement enterprise."

Head of the Samaria Regional Council Yossi Dagan received the notice of Havat Gilad's recognition directly from Culture Minister Miri Regev, and then notified Yael Shevah, the outpost's chairman Shalom David Mann and others.

"It's a historic, moving moment," Dagan said. "For the Shevah family, for Havat Gilad and for the entire State of Israel. Havat Gilad's pioneers have proven their spirit is indomitable. It marks the victory of truth and Zionism over all else."

Yael, Rabbi Shevah's widow, said, "It's a shame this day has come, but since it's here I'm glad we were able to extricate the most comforting news possible from it. Raziel would probably have said that we should give thanks, and that this is what salvation look like."

Itai Zar, one of the outpost's founders, added, "I'm very moved and very glad. We won't forget Gilad (Zar, who was murdered in 2001 and for whom the outpost was named—ed) or Raziel. I'm confident Raziel is happy and smiling up there right now."

"We've always believed Havat Gilad will be declared an official community one day. It just happened quicker than we thought, and we're proud of the government for making that move," Dagan said.

The proposal passed an "executive vote," the first stage of a long and complex process to legalize the outpost. The "executive decision" is mostly declarative in nature, announcing the government's intention to legalize the outpost, but without detailing the manner in which it will be done.

Havat Gilad is made up of lands privately owned by Jews, undeveloped lands that belong to the state, and undefined land that will likely not remain part of the outpost once it is legalized.

In addition to legally recognizing the outpost, considerable funding will have to be allocated for infrastructure, including roads, street lights and electricity.