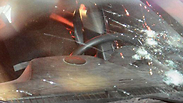 Car riddled with bullets
Photo: Meir Lavi/TPS
Man killed in West Bank drive-by shooting
Raziel Shevah, 35, succumbs to his wounds after being rushed to hospital having been shot in the neck by at least one terrorist who sprayed his vehicle with bullets in a drive-by shooting near Havat Gilad; IDF combs the area in pursuit of the shooters; friend remembers Shevah, a father of 6, as a 'family man who always wanted to help.'
A man was killed on Tuesday evening after being shot in the neck when at least one terrorist opened fire on his car from a moving vehicle near Havat Gilad in the West Bank.
The victim, who was later identified as 35-year-old Raziel Shevah, was rushed to Meir Hospital in Kfar Saba and was originally said to have sustained extremely serious wounds but but was pronounced dead shortly after.
Car sprayed with bullets by terrorists (צילום: נדב גולדשטיין/TPS אלחנח גרונר הקול היהודי)
Upon arriving at the scene, security forces and paramedics discovered the wounded man on Route 60 inside the car, the windshield of which had been riddled with bullets.
The IDF immediately launched an investigation, scouring the area, closing off roads and setting up roadblocks in the Nablus area in pursuit of the shooter or shooters.
Speaking before her husband's fate was confirmed, his wife said while rushing to the hospital: "He called me and said 'they have shot me. Order an ambulance.' I'm still horrified by the ease with which they shoot us like this. We're on the way to the hospital and we still don't know what his situation is. I ask everyone to pray for him."
Shevah, a father of 6, including an 8-month old baby, worked as a shohet (who performs the ritual Jewish slaughter of animals for food) and as a mohel (who performs the circumcision of babies) and also volunteered for Magen David Adom paramedics.
One of his close friends, Yehudah Hass, described him as "an extremely special person."
"I knew him for many years. We volunteered together in MDA. Only a short while ago he was given a certificate for distinction for his job in the service. He is effectively the rabbi of Havat Gilad. Raziel was a family man and always wanted to help," Hass said.
Itay Zar, who founded Havat Gilad, said: "On my way home I heard about the incident. I am shocked. It's a very serious incident and we are praying for the welfare of the wounded man," he said.
"We are sick of Arabs drinking a cup of coffee, getting into their cars and shooting at us and then returning to Nablus," he added. "We're sick of being ducks in a shooting range. We need a deterent."
Yehudah Cohen, who witnessed the shooting recalled the incident: "We got to the area and saw a load of bullet casings on the road. The man was conscious but lapsed into unconsciousness while he was being spoken to," he said.
Yossi Dagan, head of the Samaria Regional Council, bemoaned the fact that "terrorists feel comfortable shooting at innocent civilians.
"I want to send a clear message to our enemies. We will not surrender to terror. We choose life. I want to thank the security forces and rescue teams for their service," he said.
Residents of Havat Gilad and the surrounding communities were not surprised by the attack, with some saying that they had warned of the security threats endemic in the region.
Yitzhar resident Yishai Haramati said he was standing last week in Jit Junction, about half a kilometer from the scene of Tuesday's attack, when a car suddenly stopped alongside him.
He said the car's driver pulled out a gun and aimed it at him but did not fire for rasons that were unclear. "I felt like I experienced a miracle. The whole thing took a second and a half. I saw the car escaping to Nablus," Haramati said.
He claimed security forces looked into the incident and even presented him with photos of suspects for identification, which meant they knew a gun-carrying suspect was prowling the region.
Another Yitzhar resident wrote a Facebook post about the incident. "The Arab who tried to murder my neighbor Yishai last week must have had a gun jam. Last Sunday Yishai was driving to Yitzhar, and slowed down in Gilad Junction when a car with a yellow (Israeli) license plate stopped alongside him.
"Yishai naively thought the driver wanted to ask him something so he rolled down his window. The Arab pointed his gun at his head from a meter away. Yishai instinctively opened the door and for whatever reason, instead of shooting him the Arab drove on to Nablus," the resident wrote.
Prime Minister Benjamin Netanyahu commented on the shooting, expressing his condolences to the family.
"My deepest sympathy and condolences go out to the family of Raziel Shevah, who was murdered by a lowly terrorist. Security forces will do everything in their power to locate the heinous killer and the State of Israel will bring him to justice," he said.
Hamas's military wing released a statement following the attack, saying: "The Nablus attack is the first practical response with fire to remind the enemy's leaders that what you feared has now come. The West Bank will remain a knife in your body."
The political wing of Hamas also praised the shooting. "We welcome this heroic action that came as a result of Israel's crimes against our people in the West Bank, Jerusalem and the al-Aqsa Mosque. The Israeli government is responsible for the ramifications of its extremist racist policy," the statement read.
The attack comes just over a month after 19-year-old Sgt. Ron Kokia, who was waiting for the bus in Arad, was stabbed to death outside the mall in the city.
Around a fortnight earlier, a Palestinian stabbed an Israel Border Policemen in the West Bank Square near Ramallah, leaving him moderately wounded before being shot by security forces.
The spasmodic instances of violence had already showed signs of once again picking up pace when five days earlier a 46-year-old security guard was stabbed in his upper body and seriously wounded by a terrorist on Jerusalem's Jaffa Street, outside the city's central bus station.