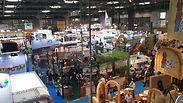 The IMTM tourism expo
Photo: Nir Shmol
Official Polish delegation backs out of Tel Aviv tourism expo
Following outcry over 'Polish death camps' bill criminalizing any references to Poland's participation in Holocaust, Polish undersecretary for tourism announces delegation of top tourism officials headed by him will not be participating in the International Mediterranean Tourism Market expo in Tel Aviv.
The Polish tourism minister canceled his planned participation in the International Mediterranean Tourism Market (IMTM) conference in Tel Aviv, set to begin Tuesday, due to the crisis in bilateral relations between the countries following Poland's contentious "Polish death camps" bill.

The Polish minister was slated to arrive to Israel heading a delegation of tourism officials to promote touristic links between the countries and to increase Israeli tourism to Poland, but the visit was aborted.

Polish Prime Minister Morawiecki's message regarding the law

A message sent Sunday to the conference's organizers said, "We are unfortunately forced to cancel the official Polish delegation's arrival." The delegation was also set to include Sport and Tourism Ministry Undersecretary Dariusz Rogowski, president of the Polish Tourist Organization and the ministry's deputy director-general.




The Polish senate approved the "death camp" bill this past Thursday, according to which any statements attributing culpability to Poland for crimes against humanity committed by Nazi Germany will be considered a criminal offense.

The law, which aroused severe resistance in Israel, will now be passed to Polish President Andrzej Duda to sign into law.

While Duda could theoretically veto the law, it remained unclear whether he harbored any intentions of doing so after stating last week that he will never allow Poland and the Polish people to be "vilified" by "false accusations."

The president added he was "amazed by the violent and unwanted behavior" Israel displayed in retaliation to the law. He also insisted no institutionalized, methodical participation of Poland or Poles took place in regards to the Holocaust, but acknowledged that individual Poles took "wicked" actions against Jewish neighbors.

Violations of the proposed law would be punishable by fines or prison terms of up to three years. A section of the bill exempts prohibited statements made "within artistic or scientific activity."

Poland's ruling party, the Law and Justice Party, has been trying to raise awareness of the hardships suffered by Poles under Nazi rule, including the death penalty imposed on Poles who aided Jews. This legislation is their most recent step in bringing the better part of their past to the limelight.

The international IMTM tourism conference is the Israeli tourism industry's annual gathering, attended by hundreds of participants from 50 countries, including more than ten tourism ministers.

In the past two years, coinciding with the "open skies" policy and a growth in the number of airlines operating in Israel, there has been a sharp surge in the number of Polish destinations that may be reached by direct flights from Tel Aviv.

El Al, Lot, Wizz Air and Ryanair all operate flights to Poland from Tel Aviv, to destinations such as Warsaw, Kraków, Poznań, Gdańsk, Wrocław and Lublin.

The number of flights have also given rise to a growing number of Polish tourists coming in to Israel, and a concurrent number of Israelis leaving for Poland. Israel Airports Authority data showed that some 600,000 people—both Polish and Israeli—flew between the two countries last year.