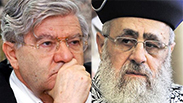 Sephardic Chief Rabbi Yosef (R) and former chief justice Barak
Photo: Alex Kolomoisky
Sephardic chief rabbi rails against civil courts system, former chief justice Barak
Chief Rabbi Yosef says civilian courts are 'worse than gentiles' instances,' litigating before them is akin to 'kicking the Torah' and former chief justice Aharon Barak, who criticized a bill seeking to endow rabbinical courts with powers of arbitration in financial disputes, was a mere 'broken shard' to be cast away.
Israel's Sephardic Chief Rabbi Yitzhak Yosef attacked former Supreme Court chief justice Aharon Barak in a speech Sunday before rabbinical courts' judges in which he claimed Barak should be treated as dismissively as a "broken shard" and added litigation in civil courts was a grievous religious offense.

Barak and his ideas should be combated, Rabbi Yosef said, much like the mainstream conservative strain of Judaism fought against reformist movements in the 18th and 19th centuries.

The former chief justice drew the Sephardic chief rabbi's ire when he gave an interview to Yedioth Ahronoth this past weekend and voiced a position opposing a bill seeking to allow state rabbinical courts, presided over by Yosef, to also serve as arbitrators and discuss financial disputes according to Halachic (religious Jewish) law if the two parties consented to do so.

"Barak is carrying on his war," Rabbi Yosef said before the assembled judges. "It's very peculiar: two God-fearing Jews wish to have their case discussed before the court. It's anti-religious coercion! You're coercing them to go to a civil court."

Rabbinical courts discussed "divorces, rulings related to bastards and the like," the rabbi said. "Why not financial matters? There's arbitration. Why should they go to court?" Yosef wondered.
'Annul his words'
The chief rabbi added that he considered Israel's secular legal instances to be worse than "the gentiles' instances," before which Halakha forbids Jews from appearing, and quoted seniors rabbis who claimed in the past that anyone who does so was "kicking the Torah" and have called the situation in civilian courts "deplorable and shameful."

Yosef then called on his compatriots in the rabbinical courts' administration and on likeminded MKs to continue pushing forward the contentious bill.

"It's a continuation of the struggles against the Haskalah (the Jewish Enlightenment movement) 200 years ago," the chief rabbi concluded. "We don't have to listen to anything Aharon Barak says. It's as if he isn't there. I protest his words and we annul them—both I and the rabbinical courts' judges join in annulling and disregarding his statements."

In his Yedioth interview, former chief justice Barak said regarding the bill that, "The Supreme Court has ruled against it and determined such arbitration was in contravention of existing law."

"Even if the law was amended it still would not suffice," he added. "It's ubthinkable of turning district court, magistrates' court or even Supreme Court justices to arbitrators, so why should rabbinical court judges be allowed to do so?"

"When there are two religious litigators, the weaker of the two will have no choice but to seek (the rabbinical courts) because otherwise he will be ostracized. Haredi women's standing is precarious enough as it is and they need to be defended," he stated.

"This marks the development of a civil-religious Israeli law that runs parallel to civil law. It'll tear society asunder, unnecessarily so," Barak concluded.