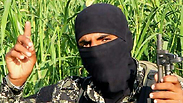 Dozens of Gaza residents are battling Hamas under the Islamic State's black flag, reported Tuesday morning Hezbollah-affiliated Lebanese newspaper Al Akhbar in an overview of the struggle between the Islamic State's Sinai branch and Hamas in Gaza.

Dozens of Gazans left the strip to fight in Iraq, Syria and Libya, the paper reported, but have since returned to the region. While some of them turned themselves into Hamas's hands, as the terrorist group is cracking down on the presence of the Islamic State (IS) in the strip, others still have decided to remain in Sinai and battle Hamas there under IS's auspices.

The fight between the two terror groups was dubbed a "direct and vicarious war" by Al Akhbar, the culmination of which was brought to bear in a video put out by IS recently showing the execution of a man named Musa Abu Zamat, who was once an IS activist himself but was killed for transferring arms to Hamas through smuggling tunnels going into Gaza from Sinai.

In the purported execution video, both the speaker and the executioner are former Gaza residents, one of which is even allegedly the son of a senior Hamas official from the al-Shati refugee camp.

Hamas has obtained information, Al Akhbar further reported, that some 50 Gazans are fighting for the IS in Sinai—having joined the extremist Sunni terror group in the past few months—alongside the group's foreign fighters.

The Egyptian army's offensive against IS in Sinai

The share of Gazans in the Islamic State's ranks in the Sinai Peninsula was estimated to be only 10 percent, with the remaining being 50 percent Egyptians and 40 percent citizens of other Arab states.

While the Islamic State was still trying to entrench itself in Sinai, it attempted to establish links with some of Gaza's terrorist groups under the watchful eye of Hamas, but the latter group's crackdown on Salafi activists and other entities affiliated with IS led to the war.

The Hamas-IS struggle was later compounded by the Egyptian army's efforts to curtail the Salafist group's power in northern Sinai, and its subsequent forced cooperation with Hamas.

Al Akhbar also claimed the aforementioned execution video was only one documented instance, whereas seven more people were executed for the same charges previously.

On the topic of Egypt's unwilling cooperation with Hamas, the Gaza-ruling group received intelligence obtained by the Egyptian army that pointed to the IS's Sinai branch's intentions to carry out suicide attacks in the strip and near the Sinai-Gaza border.

Following up on an investigative report by the New York Times published recently that exposed the extent of the alleged Israeli involvement in military operations against IS in Sinai, sources who spoke to Al Akhbar claimed that more than 17 of the group's senior officials were taken out by Israel, most of whom were previously active in Palestinian terror groups.