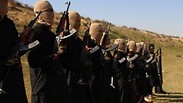 Over the past two years, Israeli Air Force (IAF) planes ventured across the Israel-Egypt border and attacked target in the Sinai Peninsula more than 100 times to assist Egyptian President Abdel Fattah al-Sisi in his struggle against the Islamic state, the New York Times reported Saturday.

The report is based on seven American and British officials who were involved in the region and remained anonymous.

Israel and the Egyptian army refused to comment on the report, as did the spokesman of the Egyptian Foreign Ministry.

Israeli aid to Egypt reportedly began after the downing of the Russian plane in the Sinai Peninsula in October 2015. The disaster led to the deaths of 224 passengers and crew members, most of them Russian citizens.

American sources quoted in the article claimed that the IAF had played a major role in assisting the Egyptian army in its struggle against the Islamic State's militiamen in Sinai—a campaign that has been going on for nearly five years.

Egyptian army attacks ISIS targets in Sinai

The attacks, which were reported to have taken place more often than once a week, were approved by al-Sisi, who had difficulty coping with the intensification of the extremist terrorist organization.

The unusual cooperation, it was said, constitutes a new stage in the charged relations between the two countries, which have become covert allies in their war against a common enemy.

In July 2016, a former senior Israeli official was quoted by US news website Bloomberg as saying that as part of the cooperation between Israel and Egypt, Israeli drones have attacked several Islamic State terror strongholds in the Sinai Peninsula in recent years.

The article, which dealt with the strengthening relations between Israel and Egypt, also quoted former deputy chief of staff Yair Golan, who said Israel has yet to experience "such a level of cooperation" with Egypt.

"It is not about love or common values," he noted. "I would not describe it like the relationship we have with the US, but I think that it's a good starting point."